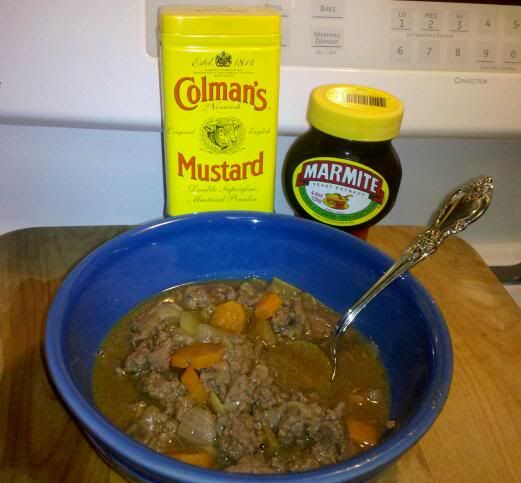 I have already blogged about this recipe a little in my
review of Jamie Oliver's Food Revolution cookbook
. This dish takes a bit of advanced planning but it's well worth it. It simmers on the stove for an hour, then it needs to cool, then you put on the top crust, then it bakes in the oven for 40 minutes. I suggest that you simmer it one night & pie it on the following evening... or do what I'm doing tonight. Ethan & I will eat it as a stew tonight, then I'll put the leftovers into a casserole & tomorrow I'll bake it off with the crust.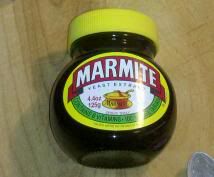 You can also bake the pie crust cut into shapes by itself on a greased cookie sheet, then top each bowl of filling with a pie crust float (and that way there is not fighting over who got more crust.) There is a specialty British food product, it's called Marmite, I don't know of anything similar to substitute and it really does contribute a LOT in flavor. I was able to find it in the International food Aisle in both H.E.B. and my local Randall's supermarket, so look out for it, it's a tiny little bottle. A note about the beef, you don't cook it and then drain off the fat, you break it into pieces, then you simmer it in broth... so I would suggest using beef with a lower fat content! Also you can top this same dish with mashed potatoes & cheese and it would make a smashing shepherd's pie! I'll add photos of the pie crust when I bake that off (but we've started eating & it doesn't look promising for much in the way of leftovers, after all. Meanwhile you can see a
pretty picture of it in the cookbook on my post about Menu Plan Monday.
British Beef and Onion Pie
3 medium Onions
2 carrots
2 stalks or celery
2 sprigs of fresh rosemary (this is a great herb to grow, yourself!)
olive oil
2 bay leaves
1 pound good quality ground beef (see blurb above)
1 teaspoon
English
Mustard (I used Coleman's Powdered Mustard)
1 teaspoon Marmite (it's sticky spray your teaspoon with Pam 1st)
1 tablespoon Worcestershire sauce
2 teaspoons all-purpose flour, plus extra for dusting
1 quart (32 oz) beef broth, preferably organic
2 9 inch pie crusts (you're going to combine them to make one thick top crust, I used Pillsbury I know how to make from scratch but once they came out with the kind rolled into a scroll, I don't bother to make my own anymore.)
1 large egg or a splash of milk (to brush the pastry)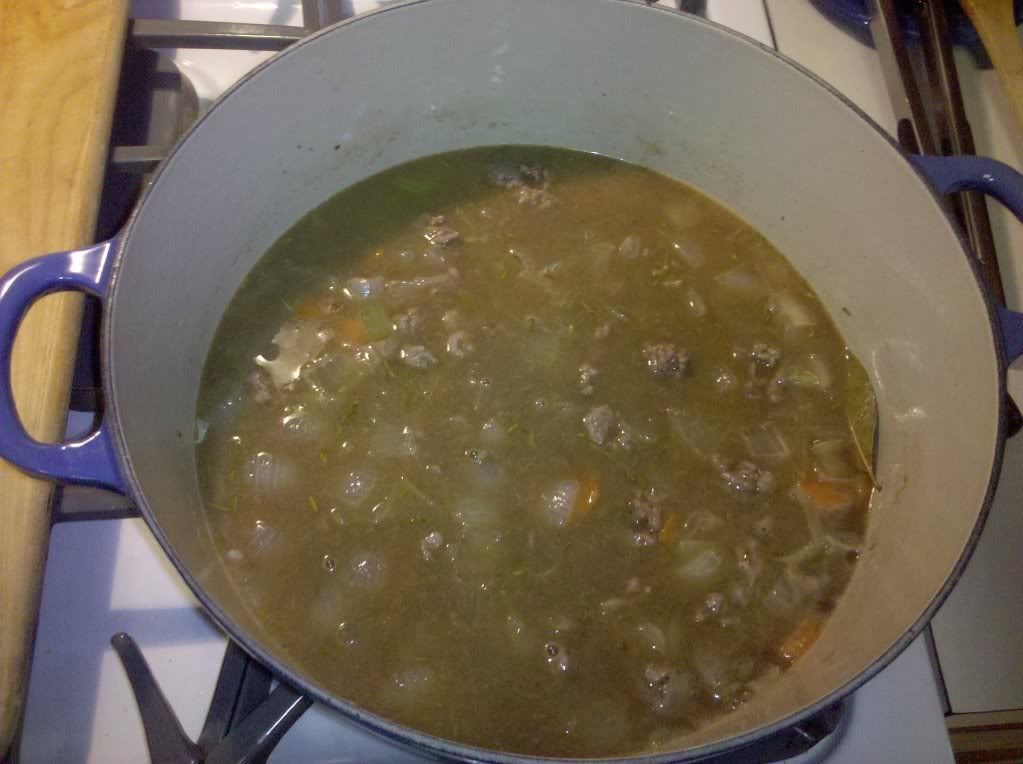 To make your beef filling
Peel and roughly chop your onions, carrots, and celery, don't worry about technique, just chop away until fine. Remove the rosemary leaves from the woody stalks and chop finely. Place a large (Dutch oven or Stockpot) type pan over high heat. Add 2 lugs of olive oil, all the vegetables, the rosemary, and the bay leaves. Stir every minute for around 10 minutes or until the veggies have softened and lightly colored. Stir in the ground beef, breaking up any large chunks with a wooden spoon. Add the mustard, Marmite, Worcestershire sauce, and 2 teaspoons of flour. Add the beef broth and bring to a boil. Turn the heat down and simmer with the lid slightly askew for about an hour, stirring every now and again to stop it catching (sticking.)
To make your pie
Fill a large baking dish with the beef filling and allow it to cool down. Remove the pastry from the refrigerator 10 minutes before you need to roll it out. Preheat the oven to 350 F. Dust a clean work surface and your rolling pin with some flour and lay the pie crusts on the top of the other, then fold in half and roll out the pastry to 1/8 inch thick (I didn't fold & just rolled the two layers together & they kind-of started to separate on me, so I think folding is better.) Once it's large enough to cover your serving dish easily, wind the pastry around the rolling pin and unroll it over the dish (don't worry if it breaks or tears, just patch it up - you'll get the hang of it!) Run a knife around the edge of the dish to trim off any excess pastry. Using a fork, press down around the edge of the pastry to crimp it. Make a hole in the middle of the pastry using the tip of a knife. Brush the top of the pastry with beaten egg or a little milk. Bake on the bottom shelf of the preheated oven for 40 minutes, or until the pastry is golden and crisp.
To serve your pie
Place the pie in the middle of the table for everyone to help themselves. As it's so scrummy and rich, it's best served with some simply steamed greens like broccoli or peas tossed in a little butter.
No milk & no wheat if you leave off the crust.