This is one of my favorite all time recipes. It's ridiculously easy and yet so good. It's not a true risotto, it uses canned soup and, HORRORS! minute rice. A product I do not think my mother allowed in her kitchen. All the same this recipe is delicious and even though I now know how to make "real" risotto I am STILL also making this delicious recipe. You can double the asparagus if you want to. More asparagus is never a bad thing! This recipe originates with The Pampered Chef and dates from the era of my life when I was a consultant... It comes from the Main Dishes cookbook (which I suspect is no longer available.) You need a really big skillet, a deep 10" or even better 12 incher, with a lid.
Chicken & Asparagus Risotto Skillet
Boneless Skinless Chicken Breasts about 1 per person, split in half on the horizontal (to make them thinner & cook more evenly)
salt, to taste
ground black pepper, to taste
Olive oil
1 small onion, chopped very fine
3 garlic cloves, pressed with a garlic press, or minced
2 ounces fresh Parmesan cheese, grated, (about 1/2 cup)
1/4 teaspoon salt
1 lemon, zested
2 cups milk
1 can (10 3/4 oz.) Condensed Cream of Chicken Soup
1 bundle fresh asparagus spears, washed, trimmed & cut into pieces
2 cups instant long-grain white rice
Add olive oil to pan & heat to medium heat. Season chicken breasts with salt and pepper and add to skillet cooking until no longer pink (about 6 minutes on each side.) Remove chicken from pan and reserve.
Add milk, soup, asparagus, onion, garlic, cheese, lemon zest and remaining 1/2 teaspoon salt to pan (I start with the onions & garlic so they can start cooking and dump each ingredient into the pan as I finish preparing it.) Stir everything together, bring to a boil & let simmer 3 minutes.
Stir in rice; top with chicken & any collected juices. Cover pan; remove from heat. Let stand 5 minutes.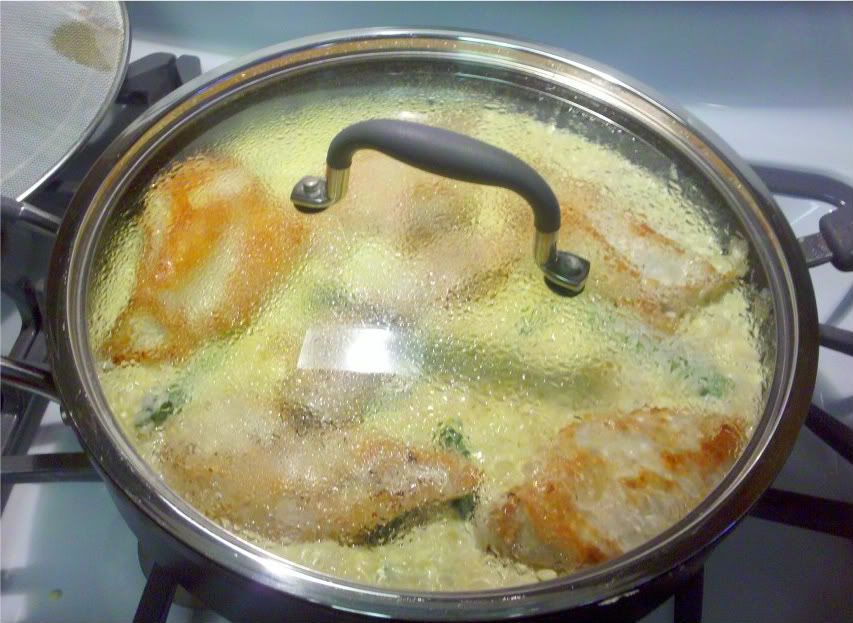 Note Preparing Asparagus:
One of the reasons that a lot of people don't like asparagus is that it is so often improperly trimmed. It's really easy, my mother taught me how and this method has never done me wrong. Rinse the asparagus under cold running water and shake dry. Grasp the asparagus near the top and the bottom and bend until it breaks. The asparagus will break where the woody part of the stem ends. I don't know why or how, but Mother was right. Discard the end, sometimes a lot breaks off but trust me, you don't want to eat that part it will be woody, sinewy and unpleasant, toss it. Mother knew best! If you do it this way you need not mess about with vegetable peelers or any of that nonsense. (I wish I could show you a demonstration picture, but it takes both hands to bend the asparagus & I don't have a tripod for my camera phone.)

Note on Lemon Zest:
There are at least 2 ways to zest a lemon & either one will do, but the amount of zest you use may vary according to which method you use. If you use a rasp or micro-plane grater, you will get a powdery light zest. If you use a traditional lemon zester you will get larger strings of zest and generally it takes less zest for more flavor. In some cases if you have a very good zester which makes long strands you may want to cut them into shorter pieces with a knife. For this dish I used my micro-plane zester because - I don't know the mood struck me.... but when I am making zest for baked goods like cookies... I used my trusty lemon zester!
Now a story about zesters:
I worked for about 5 years in housewares in a major department store (The Broadway if you live on the West Coast & want to know) when I was about 20. It was very funny to observe how customers would wait for the older ladies in the department in order to ask their advise on pieces of equipment & see their astonishment as a lady of more-than-50 referred the customer to me as having more experience in that kind of cooking. Te-he-hee that was always kind-of fun.
Well anyway, I did quite a good trade in selling lemon zesters as tie-ons for Bridal Shower gifts. The Henckles gadgets were near the cash register & ladies who came in registry shopping as a group would often amuse themselves by playing "name that gadget" which each other as I was ringing up... many of them had no idea what most of the tools were (this was before The Food Network.)
The one that
always
stumped them was the lemon zester. Again it was fun to watch their surprise when the young whippersnapper (me) knew what it was and could tell them 3 different dishes in which they might USE a lemon zester (a credit to my wonderful cooking/baking, mother.) After 2 different groups bought zesters in order to play "stump-the-bride" at the shower... I began suggesting them as an add-on to many of my registry customers. (FYI even now, my spell-checker doesn't recognize the word zester.)