This is from
Rachael Ray's 365 No Repeats Cookbook
. It's number 195. It was really good.
I added a box of frozen chopped spinach, I think it dulled down the basil taste, but it added some vegetable nutrition too. If you add spinach you may want to add more salt, or mix some extra Parmesan into the spinach before you add it. Next time I think I would use canned diced tomatoes rather than crushed. I had to buy a big can to get crushed and I think I would prefer to have chunks of tomato. I like this recipe because you can make so many variations - in fact this cookbook actually has 5 different variations. "Al Forno" as best I can tell means "in the oven" and refers to the browning of the cheese under the broiler at the end of the recipe.
My family loved this. Ethan and I ate half of it just the two of us (oops!) and when Robert came home from a dinner meeting he ate a small plate because he wanted to sample it. It was so good he went back for more, but by that time I had already put the leftovers away. Tonight I'll serve the leftovers with Salad and Bread. I recently picked up an herb blend to add to olive oil for dipping bread, so I am looking forward to trying that.


(Recipe Update 4/14/09: I tried the recipe using zucchini and diced tomatoes, it wasn't as good, I prefer the taste of the crushed tomatoes and spinach as described in this recipe.)
1 pound penne or ziti rigate
Coarse Salt
2 cups ricotta cheese
2 tablespoons unsalted butter, cut into small pieces
1 cup Parmigiano-Reggiano or Romano Cheese (divided)
2 Tbs Olive oil
1 medium onion, finely chopped
3 garlic cloves, minced or pressed (if you're a garlic lover like I am you could add more)
Generous Handful Fresh Flat Leaf Parsley, finely chopped (I added chopped frozen spinach instead - be sure to squeeze out the extra liquid from the spinach)
1 14 oz can of crushed (or diced) tomatoes
20 fresh basil leaves, shredded or torn
1/2 pound fresh mozzarella, thinly sliced

Place the ricotta, butter and 1/2 cup of the Parmesan in a large bowl.
Bring a large pot of water to a boil. Add the pasta and salt the water. Cook the pasta.
Heat a skillet over medium heat. Add the olive oil, onions, place garlic on top of the onions and cook for 5 minutes. Turn off the heat.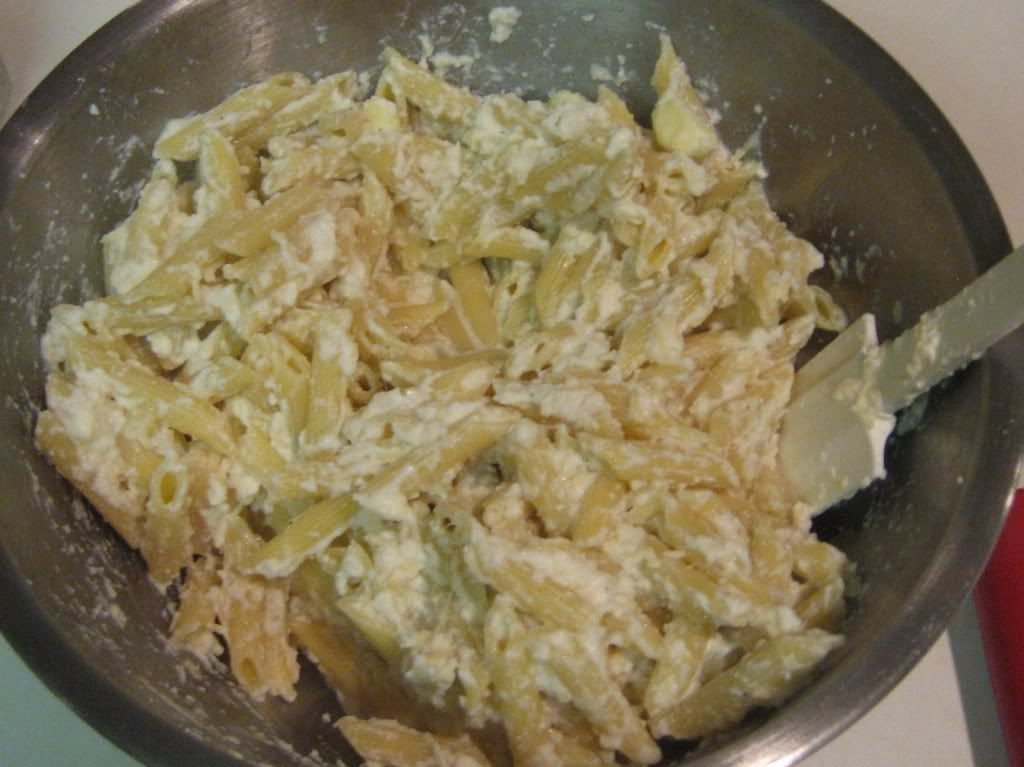 Drain the pasta. Add it to the bowl with the cheese. Toss to melt the butter and evenly coat the pasta with cheeses, then season with salt and pepper. Add the tomatoes, basil, parsley (or spinach) and onion mixture and toss again to combine.

Transfer the mixture to a baking casserole. I'd zap it in the microwave for a few minutes here - my pasta didn't stay hot enough after adding it to the other room temp ingredients. Then evenly distribute the remaining 1/2 cup of Parmesan cheese and the slices of mozzarella over the top.

Place under the broiler and crisp the top and edges of the pasta, melting and browning the cheeses evenly.
4 servings