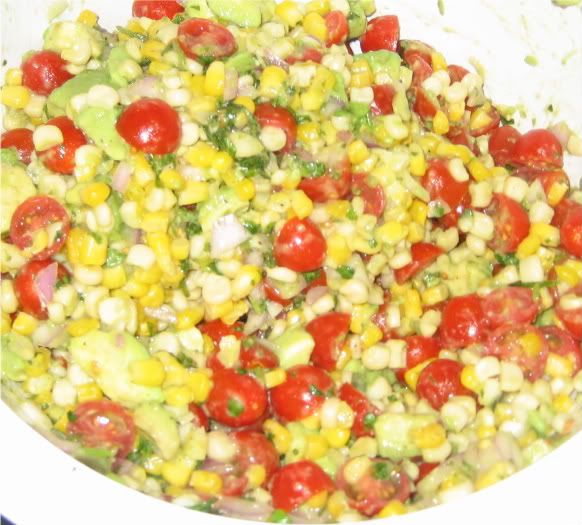 This is the recipe that I made for the Ladies' Recipe Swap last night at church. It's a great recipe, it is always very well received, it couldn't be simpler and it's actually quit healthy. I've been making it for several years, it's wonderful for warm weather or in the middle of winter when I'm longing for the summer. I original found this recipe in Paula Deen & Friends, but I've adjusted the amounts of the ingredients to meet my own tastes. Being a California/Texas girl I needed a lot more avocado than what it originally called for! This is enough to take for a group or potluck, just cut it in half to make the recipe family size.
2 bags frozen corn, sautéed in a skillet (or canned corn, drained) about 6 cups.
4 small avocados, cut into 1/2 cubes.
2 small boxes grape tomatoes, halved
½ cup finely diced red onion
Dressing:
4 Tbs. olive oil
2 Tbs fresh lime juice (or more to taste)
1//2 teaspoon grated lime zest
½ cup chopped cilantro
½ teaspoon salt
¼ teaspoon pepper
1. Combine the corn, avocado, tomatoes and onion in a large bowl.
2. Whisk together the dressing ingredients in a glass bowl. Pour over the salad and toss gently to mix.