Quite awhile back I submitted an "Ask the Chef" question to Gourmet Momma over at
GourmetMomma.blogspot.com
about getting chicken breasts to cook all the way through. She posted a wonderful solution with step-by-step-photos back on September 1st.
Click Here
to see her answer.
Well I haven't happened to have made chicken since she posted her answer but on the very day I read her answer I had bought thick pork chops to make for dinner - you know the ones you buy in bulk at the club stores. Well her chicken solution got me to thinking - I always see recipes that call for pork cutlets and nobody around here seems to SELL pork cutlets. So armed with the how-to photos I decided to make cutlets out of my chops and make a new recipe out of
America's Test Kitchen, Fast & Fresh 64 Suppers 30 Minutes or Less
. They were delicious and the leftovers reheated well in the oven on a stoneware pan --- THANKS Gourmet Momma! Click Photos for larger view.
To make your own cutlets. Place Boneless Pork Chop on cutting board. Place left hand flat on top of pork chop. Cut chop in half working slowly with a very sharp knife held parallel to the cutting board. I was able to get 3 cutlets out of each pork chop. Click Link above for Gourmet Momma's more detailed tutorial.
Crispy Pork Cutlets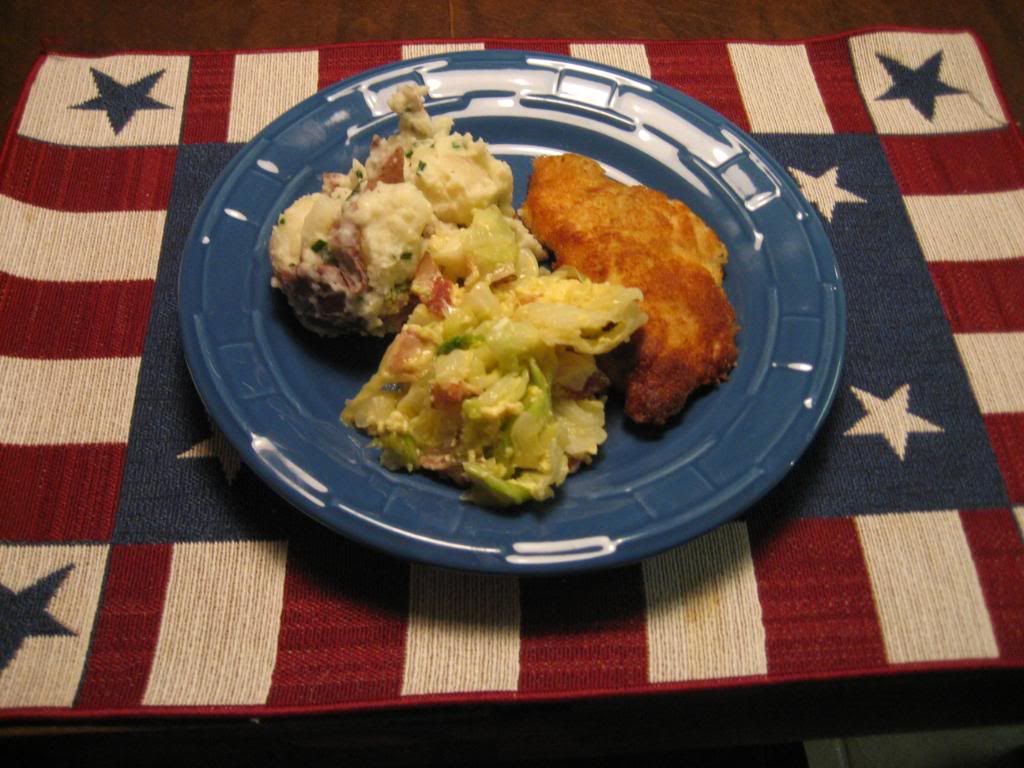 5 slices hearty white sandwich bread, torn into pieces
1/2 cup all-purpose flour
2 large eggs
2 tablespoons Dijon mustard
8 boneless pork cutlets (3-4 ounces each), about 1/4 inch thick
Salt and pepper
1/2 cup vegetable oil
1. Adjust oven rack to middle position and heat oven to 200 degrees. Pulse bread in food processor until coarsely ground; transfer to a shallow dish. I ground the bread in small batches in my blender. Place flour in second shallow dish. Beat eggs with mustard in third shallow dish. Pat pork dry and season with salt and pepper. One at a time, coat cutlets lightly with flour, dip in egg mixture, and then dredge in bread crumbs, pressing to adhere. I tried out my new Pampered Chef Coating Trays. They were so handy. The rectangle shape took up less counter space than the 3 pie tins I usually use, and because they clip together I didn't have drips all over my counter. When I was finished they went in the dishwasher and they nest for compact storage - very handy! Place coated cutlets on a platter with wax paper between each layer.
2. Heat 1/4 cup oil in large nonstick skillet over medium-high heat until just smoking; a cast iron skillet is perfect for this. Fry half of cutlets until deep golden and crisp, about 3 minutes per side. Drain on paper towel-lined plate and transfer to oven on stoneware or baking sheet, to keep warm. Wipe out skillet and repeat with remaining oil and cutlets. I used the same oil for all 3 batches but it didn't seem to hurt anything.
The magazine suggests serving these with buttered egg noodles tossed with parsley, but I was in comfort food mode on this day. I served it with Smashed Potatoes and
Grandma's Cabbage
. That was a bit ambitious, too many pots and dishes going all at once and too much food! Next time I will just serve it with the cabbage. I will share the cabbage recipe soon.
Click Here
for link to
Smashed Potatoes Recipe
.