Yes, I'm making Lemon Rosemary Chicken - again. Whole Chickens were on sale for $0.79 per pound at Kroger. This time I remembered to rub the outside with oil before putting it in the oven, so it should come out with browner, crispier skin this time.
Click Here for Previous Lemon and Rosemary Chicken Post and Recipe
To go along with the chicken I'm making Smashed Potatoes - a recipe that I used to make ALL the time, and forgot about. It's so easy and the potatoes are DELICIOUS. It's a recipe from
America's Test Kitchen
- my print-out dates it to November of 2004. I'll add pictures, later.
Smashed

Potatoes
2 pounds Red potatoes, unpeeled and scrubbed
salt
1 bay leaf
4 tablespoons unsalted butter, melted and warm
1/2 cup cream cheese (4 oz.), at room temperature (I use
Neufchatel
-less fat tastes the same)
ground black pepper
3 tablespoons chopped fresh chives
Place potatoes in large saucepan and cover with 1 inch cold water, add 1 teaspoon salt and bay leaf. Be sure to start with cold water or the potaotes will cook unevenly. Bring to boil over high heat, then reduce heat to
medium
-low and simmer gently until paring knife can be
inserted
into potatoes with no resistance, 35 to 45 minutes. Reserve 1/2 cup
cooking
water, then drain potatoes. Return potatoes to pot, discard bay, and allow potatoes to stand in pot, uncovered, until surfaces are dry, about 5
minutes
.
While potaotes dry, whisk melted butter and softened cream cheese in medium bowl until smooth and fully incorporated. Add 1/4 cup of reserved cooking water, 1/2 teaspoon pepper, chives, and 1/2 teaspoon salt. Using rubber spatula or back of woodwn spoon, smash potatoes just enough to break skins.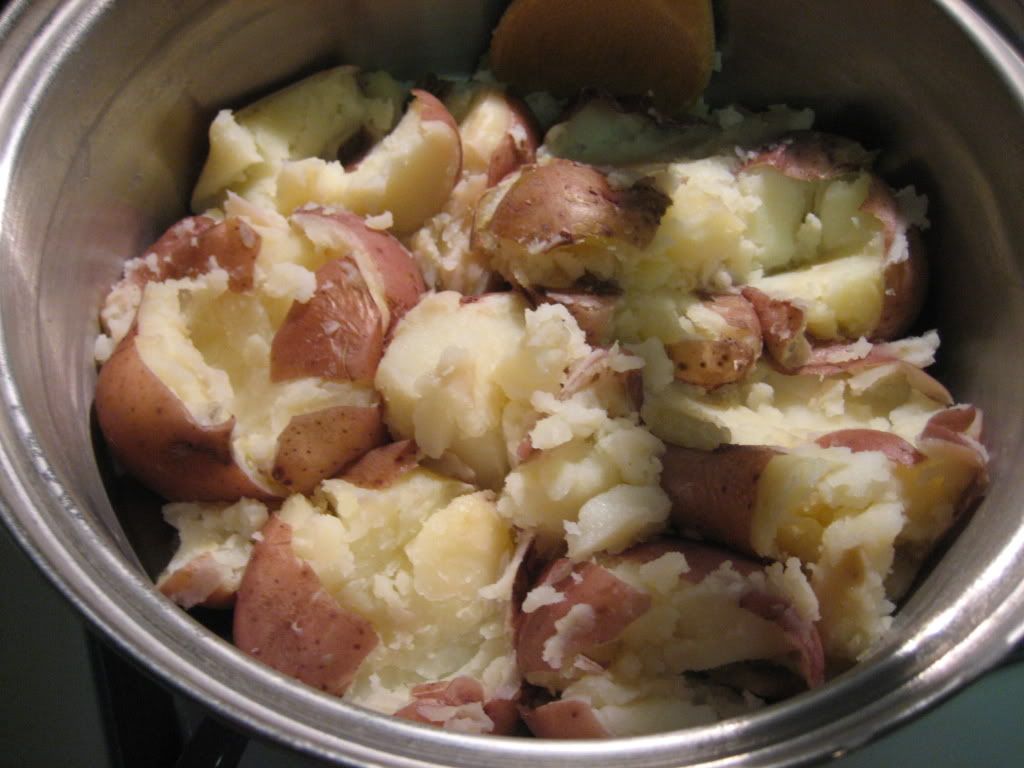 Fold in butter/cream cheese mixture until most of the liquid has been absorbed and chunks of potatoes remain. Add more cooking water 1 tablespoon at a time as needed, until potatoes are slightly looser than desired (potatoes will thicken slightly with standing). Adjust seasonings with salt and pepper; serve immediately.