Casseroles are one of those things that it is just as easy to make 2 as 1. So I like to make a double batch and fix one casserole for that night, and put a second into the freezer. It's a great way to plan ahead for a busy day. There was a time I had so many casseroles in my freezer that sometimes didn't have a pan to bake a cake in (because they were all in the freezer with casseroles frozen in them.) So here is a handy solution to that problem.
Last night I multiplied the recipe by 1 1/2 so that I would have enough for 2 generous 9"x9" casseroles. I have a small family and a husband who travels a lot, so the 9x9 size works better for us than a standard 9"x13" casserole.
Baking dishes: Be sure your baking dish is one that can go safely from the freezer to the oven. Some materials will shatter from thermal shock if they go from being very cold into a hot oven. For this reason I use Pyrex when I freeze casseroles.
Prepare your casserole filling.
Line the baking dish for the casserole you want to freeze with 2 layers of Heavy Duty Aluminum Foil. You need 2 layers so you will be sure to be able to get the casserole out of the pan. The first layer only needs to be as large as the pan and actually you can use plastic wrap, or parchment paper, or even wax paper for this layer. The second layer needs to be foil and you want to leave enough extra that you will be able to fold the ends over on top to seal up the casserole in the foil.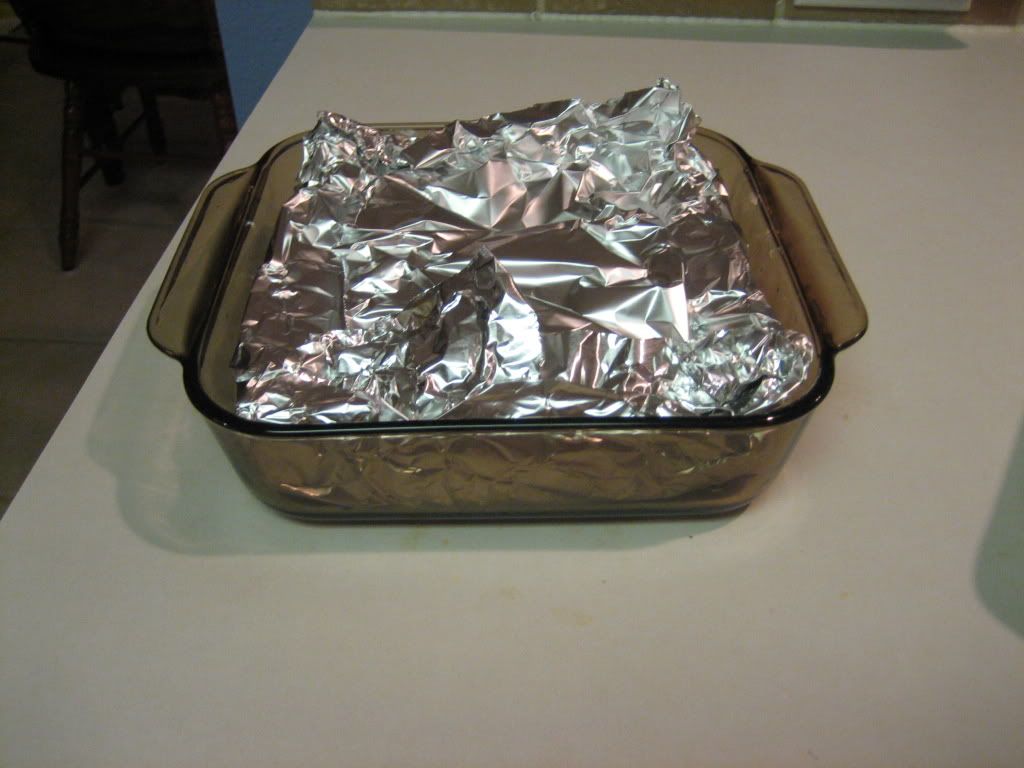 Fill your lined dish with the filling, fold the foil over the top and place in the freezer until frozen solid.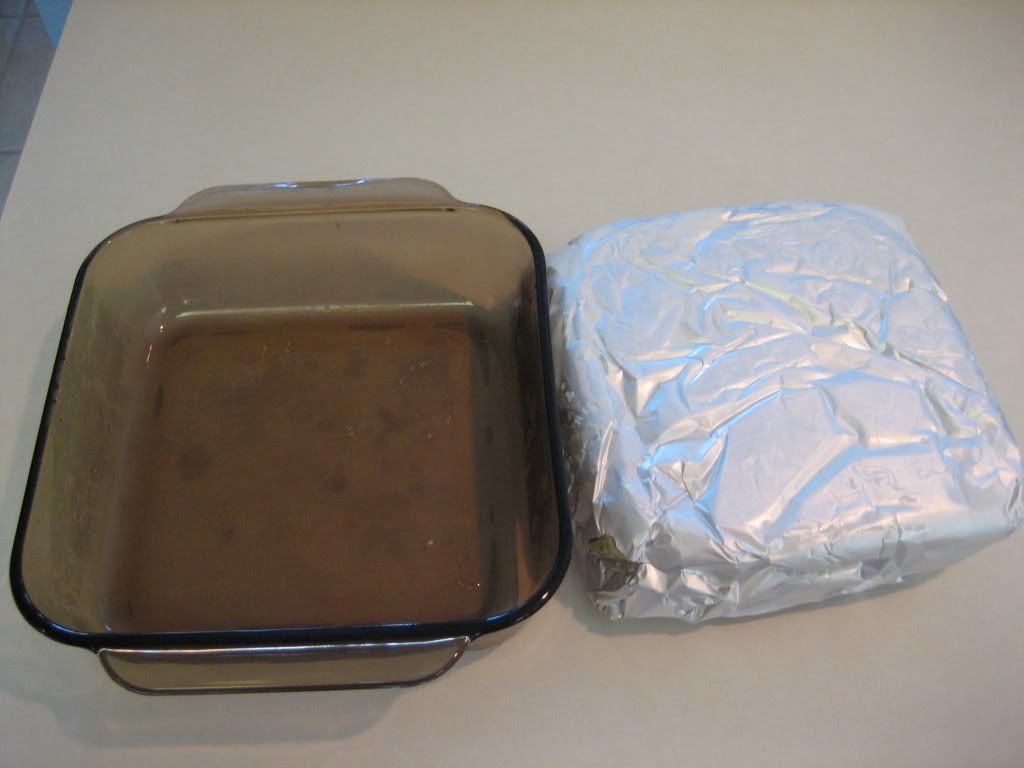 When your casserole is frozen thru, remove the frozen casserole from the dish - if you used a layer of parchment, wax paper, or plastic wrap or anything that is not oven safe - remove and discard that layer. You now have a frozen casserole that can be wrapped and returned to the freezer - while you are free to use the pan for other things.
A 9"x9" casserole will fit into a gallon size freezer bag, I like to label the freezer bag with the contents, the date, and any baking instructions. A Sharpie marker will not bleed in the freezer. If your casserole is too large to fit into a freezer bag - wrap it tightly with more foil or plastic wrap.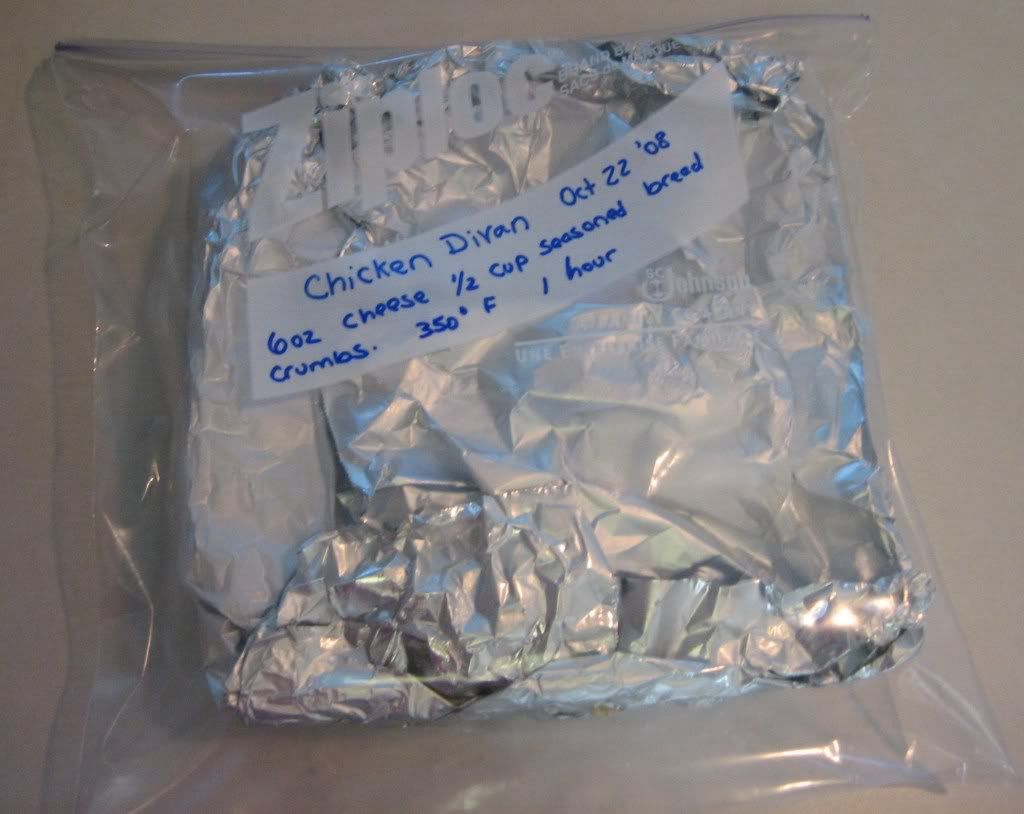 When it is time to prepare the casserole, remove it from the freezer bag. Place the foil-lined casserole back into the original dish and place it in the refrigerator to defrost for at least 24 hours, then top and bake. You may need to adjust your baking time a little longer depending on how cold it was when it went into the oven. I often let the casserole sit out on the counter for 20-40 minutes in order to take the chill off before baking.
A note about toppings....
Crispy toppings should be left off the casserole before freezing, and added just before baking. Cheese also does not freeze well. A good rule of thumb is, if the cheese is mixed into the casserole filling it will do fine, but if a casserole calls for cheese on the top, leave it off before freezing and add fresh cheese when you bake the casserole.
Chicken Divan Recipe
I hope you find this helpful!