This little card is great for many occasions such as a forgotten birthday, for a child, "Never forget how much I love you." A thank you, "I'll always remember what a great time we had. Thanks for a memorable day!" As a reminder of how much you care, "Remember, I'm always thinking of you."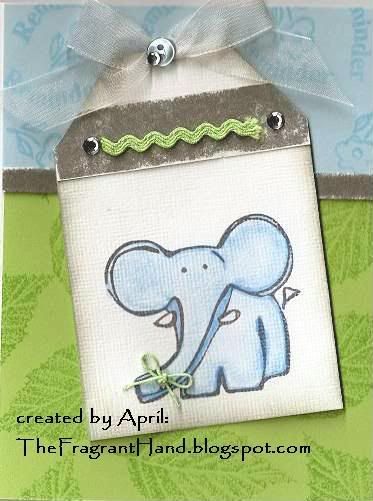 The elephant was stamped in Grey Wool and colored with chalk on a tag made from white, textured card stock. I sponged the edge of the tag with Grey Flannel Ink to soften the edges. The grey card stock was sanded to reveal the white core. The patterned card stock was created by stamping on colored card stock with ink of the same color (tone-on-tone stamping.)
Colors are Grey Wool, Heavenly Blue, and Sweet Leaf.
All products CTMH
Stamp Sets: Life's A Jungle (July Stamp of the Month) and Autumn Splendor