I'm not just taking a class in the crazy month of December, I'm taking two!
I am always behind at the Holidays. Ethan has a birthday in the first week of December and by the time I can shift my focus from Birthday to Christmas I am already far behind where I should be for holiday preparedness.
We lost my Mom to cancer in February of 2007. Christmas hasn't felt like Christmas for years... there were heightened emotions & a dread of each year being "the last Christmas" and after she was gone, Christmas felt empty. I'd go through the motions the best I could, but my heart had gone out of it.
I love the holidays & I want the Joy back. I want to see the charm, again. So I decided to take back Christmas. I thought this one would help me to get into the mind-set & cherish the every-day of December.
The first of these classes is
Journal Your Christmas at Shimelle.com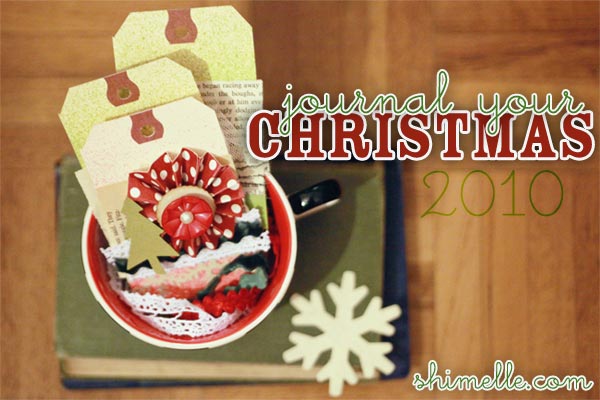 This class is about a daily journaling prompt from December 1 - January 6 to help collect thoughts about the holiday. There are also daily photographic prompts. You should see the albums that people are forming around the prompts, they are truly spectacular. An added bonus of this class is that Shimelle teaches it every year so you pay your registration once and you get access to it every year & the archives from past years too.
I'm behind, but I knew I would be and my focus this year isn't to do every single day. It's to bring the heart back into Christmas. That's what I'm after, this year.
The previous 2 blog posts have been inspired by this class. I've given it a label to make it easy to follow.
Journal Your Chrsitmas 2010