My family likes this so much I make a double batch. The recipe is from the August 2007 issue of EVERYDAY with Rachael Ray. I've been making this recipe regularly since then & we're still not tired of it. The magazine calls the recipe Five-Spice Coconut Chicken, but that's misleading because the only coconut is coconut milk in the marinade. I happen to adore coconut, but the rest of my family does not appreciate it in flaky shredded form. I find coconut milk in the International food aisle with both the Chinese and Indian foods. Five-Spice powder is an Asian spice blend. Five-Spice powder is not hot, it's sweet & aromatic. It is from the gods, if you've never tried it, TRY IT! Your supermarket will have it either with the regular spices & or in the Asian & International aisle.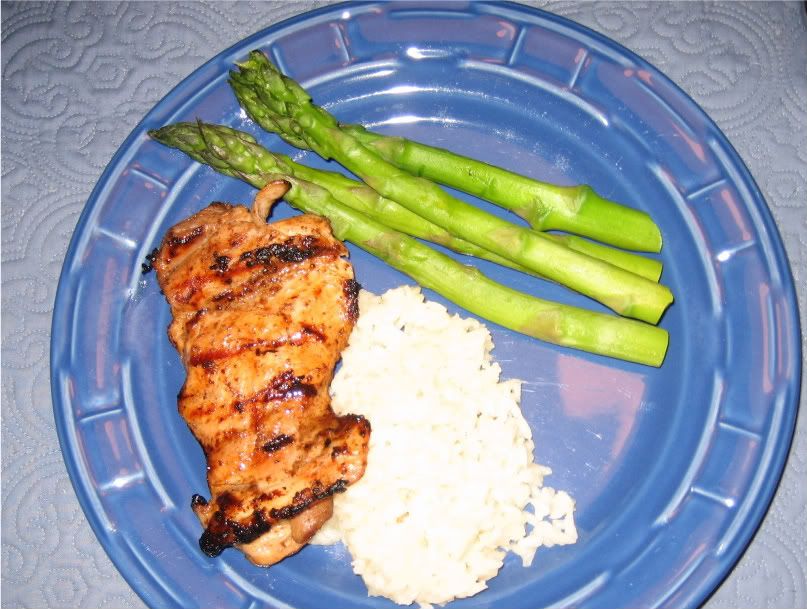 Five-Spice Chicken
1/3 cup unsweetened coconut milk
2 Tablespoons honey
1 Tablespoon lime juice (please use fresh, so much better!)
2 Tablespoons of Soy Sauce
1 clove garlic (I usually put more, I am probably one of those folks who smells like garlic)
2 1/2 teaspoons Chinese Five-Spice powder
1 teaspoon salt
8 boneless chicken thighs (about 2 pounds) pounded flat
Place all ingredients except chicken in a large zipper bag, I use the 2 gallon size because I make a double batch. Squish all the marinade ingredients around in the bag to combine them, then add the chicken thighs in the marinade. I like to set the bag inside a plastic container to keep it stable and capture any possible leaks or drips in my refrigerator. The recipe says to let it marinade for 15 minutes, it's good even in a short 15 minutes, but an hour or a several hours are even better!
Preheat a grill or grill pan to medium. Prepare the grill by applying oil to the grill.
Here is how: Make yourself a pad by folding a paper towel up into a small rectangle. Get yourself a small bowl and put some vegetable oil in it (olive oil will burn use your canola or sunflower or vegetable, plain old oil.) Use heat-safe tongs to hold the paper towel, dip it in the oil & rub it on the grill to oil the grill before you put the chicken on.
I am sure you can cook this chicken in a skillet, but chicken thighs are great for cooking an a BBQ grill. They little bits of fat on them char and get black and taste fabulous! So if you can grill them over fire, do (I am at this moment contemplating the dark clouds outside & the chill air and decided it will indeed be worth it, provided I can wrestle the grill out of the garage.) If you don't have a grill, broil or saute.
Back to the grill. Grill the chicken thighs for about 5 minutes on each side until cooked thru.
Serve with
rice
& a veggie. I recommend Chinese snow pea pods, broccoli or sugar snap peas.
A note about chicken thighs
. Here in Texas the kind of boneless thighs I get are flat and messy and kind-of folded up on themselves in the package, I have to unfold them like opening a little book. I don't have to pound them. When I made this recipe for my Dad in California, the thighs there were lovely & flat & completely different, but they were kinda spongy when I cooked them, I think that style should be pounded to make them thinner.