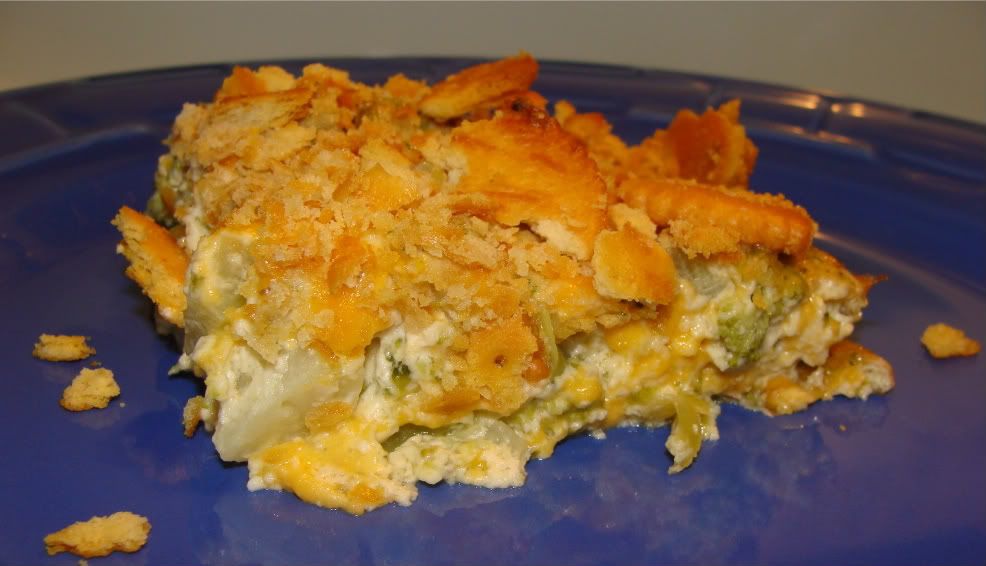 This is a recipe out of Paula Deen and friends. It is one of Ethan's favorite things to eat and I made it tonight because he informed me that he was tired of meat, he wanted to eat Broccoli Casserole. Everybody does seem to like this one.
Paula states that you need to use a metal spoon to mix this up because it's really stiff. To this I say "Pish" just add the ingredients in the order I describe and it goes together fluffy and light.
Broccoli Casserole
Two eggs
One cup mayonnaise
One 10 3/4 can condensed cream of mushroom soup (original recipe is best)
1 cup grated sharp Cheddar cheese
Two 10-ounce packages frozen chopped broccoli, cooked and drained
2 cups crushed Ritz or cheese crackers (I used one sleeve of Ritz use 2 sleeves if you like a taller layer of crackers - those golden, buttery cracker crumbs are quite tasty!)
2 tablespoons butter, melted
Preheat oven to 350 degrees Fahrenheit.
In a very large bowl beat the two eggs, then add mayo, soup and cheese and mix thoroughly, then mix in the broccoli. Spread broccoli mixture into a 9"x13" baking dish that has been sprayed with non-stick cooking spray (Pam.)
Place Ritz crackers in a 1 gallon zipper bag, squeeze out excess air and seal. Crush crackers, you can roll with a rolling pin, bash with a skillet, or just push down on the bag a few times with the baking dish. Melt the butter, pour into the cracker crumbs, re-seal bag and shake a few times to distribute butter. Spread buttered crumbs onto the top of the casserole and bake until set and browned, about 35 minutes in an oven at 350 degrees Fahrenheit.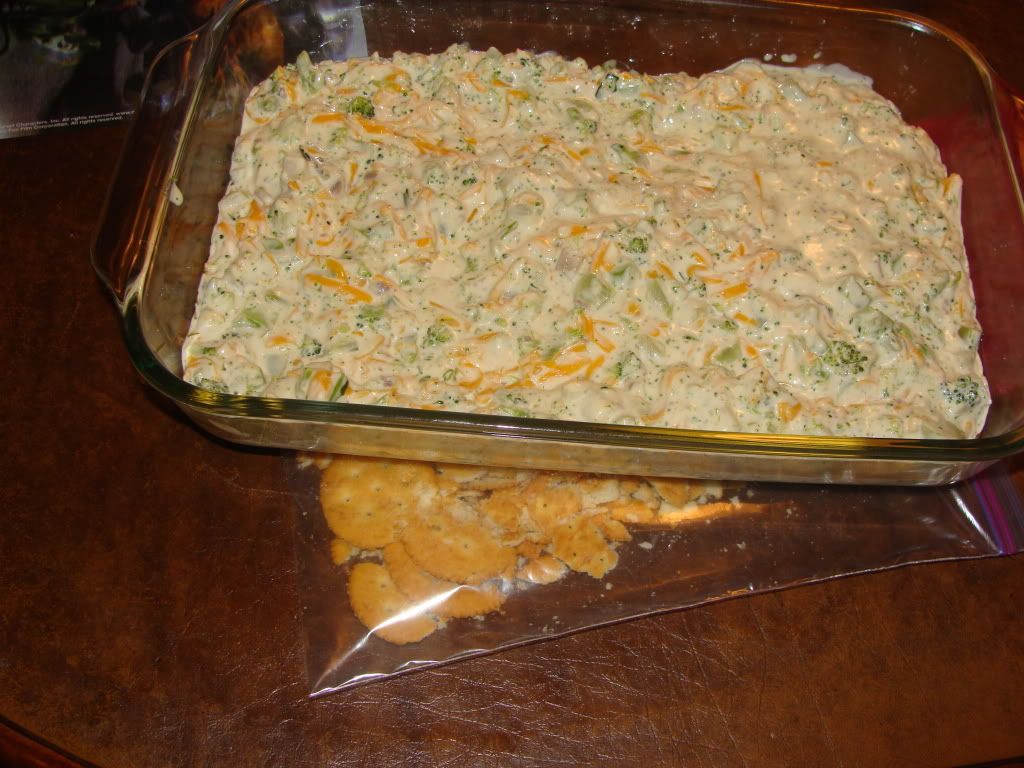 serves 8-10