This recipe is for Sheila, she is always giving me great feedback & comments, I love it when my blog becomes a 2 way communication. Check out Sheila's blog
SHEILA'S STAMPING STUFF
at
http://sheila-bennett.blogspot.com/
Sheila
said...
This looks really good! Will have to get some pesto and veggies and give it a try. And the rice looks creamy and yummy too. Do you have a recipe for your rice? :)

I sure do Sheila!

I made this rice to go along with
Pesto Chicken Grill Packets
. Years ago when I was a newlywed I bought a cooking for 2 magazine from bon appetit, there was a rice recipe in it. I have been making it from memory for years, I'm sure I've strayed from the original. I know that condensed chicken broth gets a lot of grief these days, but I think the rice tastes so much better when I use condensed broth instead of chicken stock.
I love rice, I don't think I've mentioned this. I serve everything over rice, even Stroganoff which is traditionally supposed to go with buttered noodles.
Rice with Onions and Garlic
1 Tablespoon Olive oil or butter
1/2 onion, chopped
1 or 2 garlic cloves, pressed (don't use that stuff in the jar it smells great but doesn't come thru with the same kind of flavor as fresh garlic)
1 cup of long grain rice (I use Mahatma Extra Long Grain Enriched Rice)
2 cups of chicken broth or stock (if using condensed broth use 1 can and make up the difference with water.)
Place the olive oil or butter in the bottom of a large saucepan and heat to medium heat. Add the onions and saute until they are translucent and begin to soften, they'll cook more with the rice so you don't have to cook them all the way, but soften them up you want sauted onion flavor not boiled onion flavor. When the onions are cooked to your satisfaction add the garlic and stir until fragrant, about 30 seconds. Over-cooked garlic gets bitter so add the rice as soon as you smell the garlic.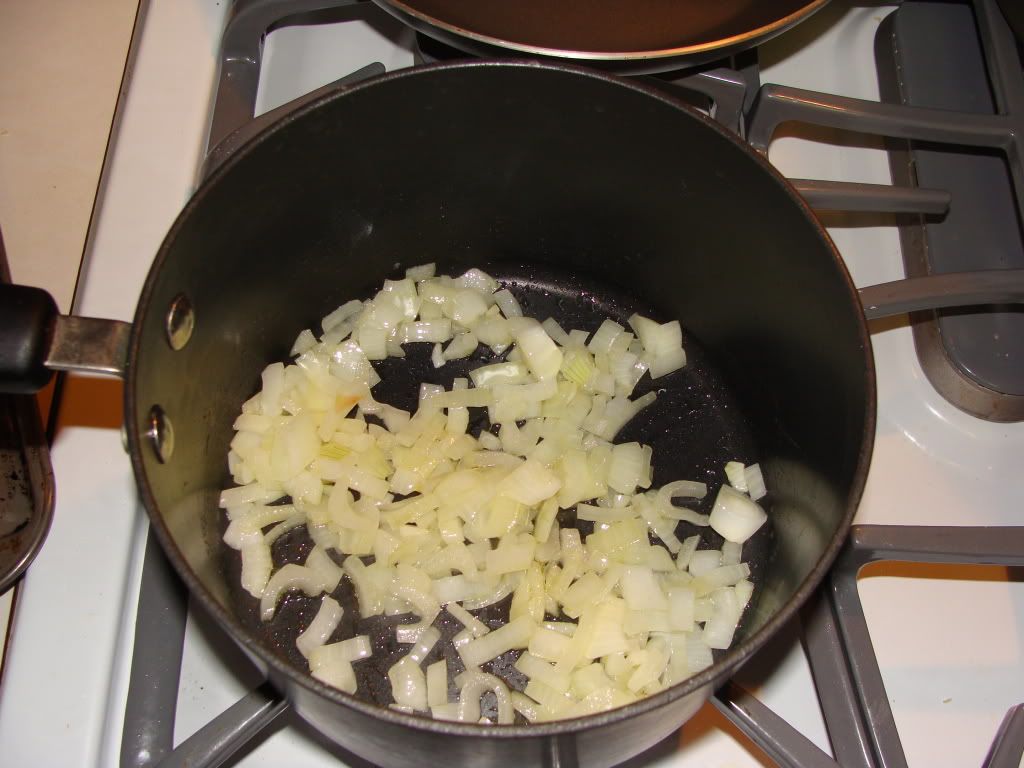 Add rice to the pan & stir it up with the oil and onions. Stir occasionally until the rice begins to look toasty & a little translucent. Coating the rice with oil or butter and toasting adds to the creaminess of the rice, this technique is borrowed from risotto making (risotto uses a different kind of rice.)
When the rice is toasty add your chicken broth or stock, stir and bring up to a boil. Stir once more, place the lid on the pan and turn the burner down to low (on my gas stove I turn it down to the very lowest setting.) Now, this is one of the most important parts of rice making - once that lid goes on... do not lift the lid again until it is done the accumulated steam is important. My husband always comes home from work, wanders into the kitchen and lifts all the pot lids to see what's for dinner. If I am making rice... well I'm trying to teach him not to do that.
Once you put the lid on and turn the heat down set your timer for 20 minutes. When the timer goes off, turn off the heat & set the timer for 5 more minutes. After those last 5 minutes have elapsed it is safe to lift the lid, fluff the rice & serve. I don't lift the lid and fluff until I am ready to serve.

On this night I had a little zucchini & diced tomatoes leftover from the chicken packets, I didn't want it to go to waste, so I threw it into the pan right before I put the lid on. That is why you're seeing some extra stuff in there in the photos.