Please excuse my appearance in all these pictuers, I have been having eye problems (reaction to sunblock I think) which prevented me from wearing any make-up yesterday.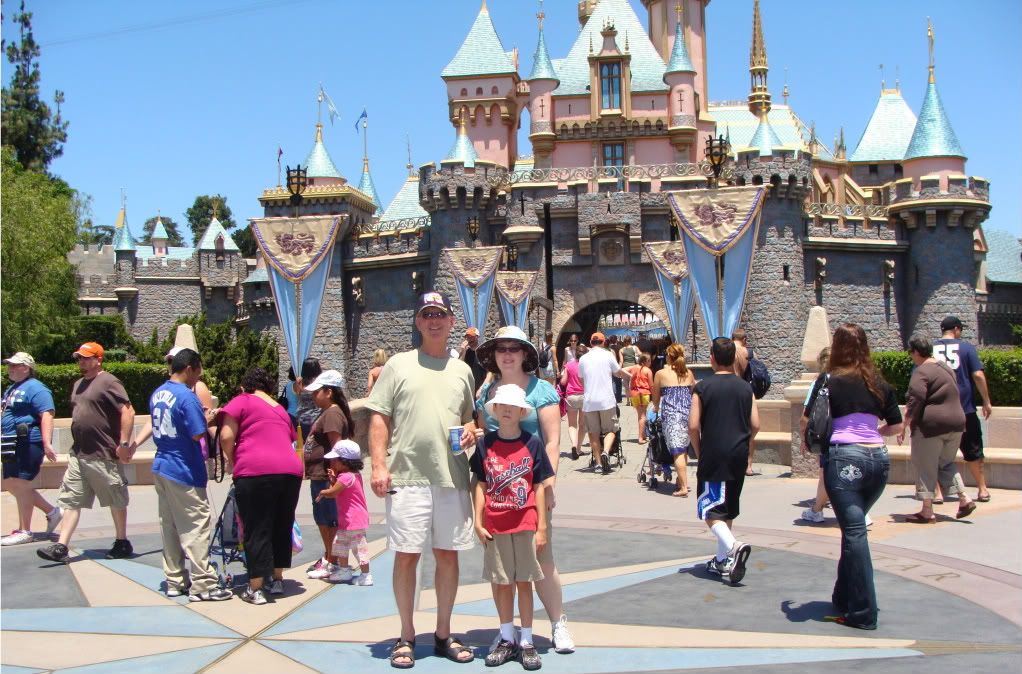 We began with a visit to lockers and a dash to Tomorrowland where Ethan could not make up his mind which of two favorite rides to start with. We got into Buzz Lightyear's Astro Blasters in under 10 minutes then it on to the Star Wars themed simulator ride Star Tours.
Next we stood in our longest line of the day Finding Nemo's Submarien Voyage. A submarine ride with characters from Finding Nemo. Then we headed off to Frontierland where I could not persuade Ethan to ride Big Thunder Mountain - this is one of my favorites which I have not ridden in YEARS (because Ethan is afraid of it.)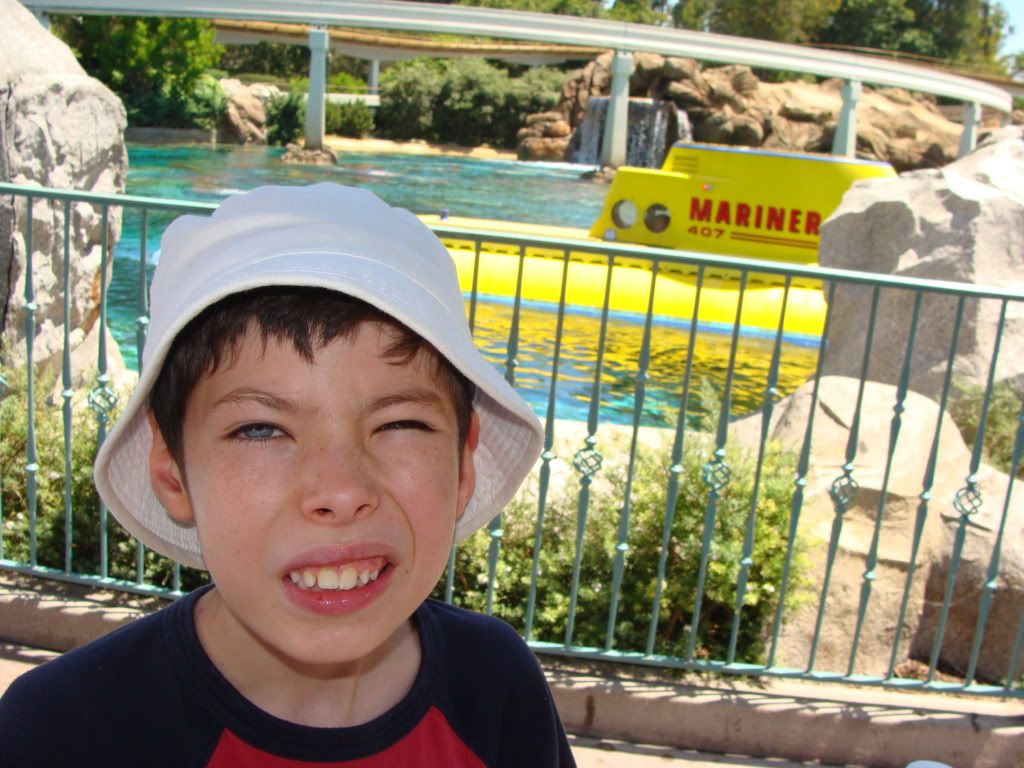 Ethan couldn't wait to get onto Tom Sawyer's Island which has been updated to be a Pirate Lair. I think Ethan could have spent all day in the Caves.
After the island we had about an hour left until our lunch reservation so we headed toward another of Ethan's favorites The Haunted Mansion.
After that we met up with Heather and browsed around the shops until it was time for our lunch reservation at The Blue Bayou.
The Blue Bayou is a restaurant located inside the Pirates of the Caribbean attraction. The setting feels like you're dining outside at night at a southern plantation house on the water. There are festive colored lanterns strung across the courtyard and boats for the ride glide quietly by as crickets chirp, frogs croak and the occasional firefly twinkles (there aren't many fireflies left.) This is an experience I remember from childhood, My mother loved to eat at the Blue Bayou and while we knew it was expensive and were prepared to split meals... we were not quite prepared for what inflation has done to the prices at The Blue Bayou. We very much enjoyed the experience but realized this will be the last time we will experience it. Heather and I split a $22 Monte Cristo sandwich and were informed that there was a $12 split charge (and this was the LUNCH menu!) So it was a beautiful setting full of nostalgia. Ethan was now old enough to remember the experience so we consider it a final farewell for us and the Blue Bayou.
After lunch we rode the Pirates of the Caribbean then Heather and Debbie were going to take Ethan to pet the animals at Big Thunder Ranch while Dad and I rode Big Thunder Mountain (at last!)
Alas when we arrived Big Thunder Mountain was temporarily closed :( Foiled yet again. So we all walked thru Big Thunder Ranch, watched a bit of a Woody's Round-up show at the BBQ stage then continued on to Fantasyland.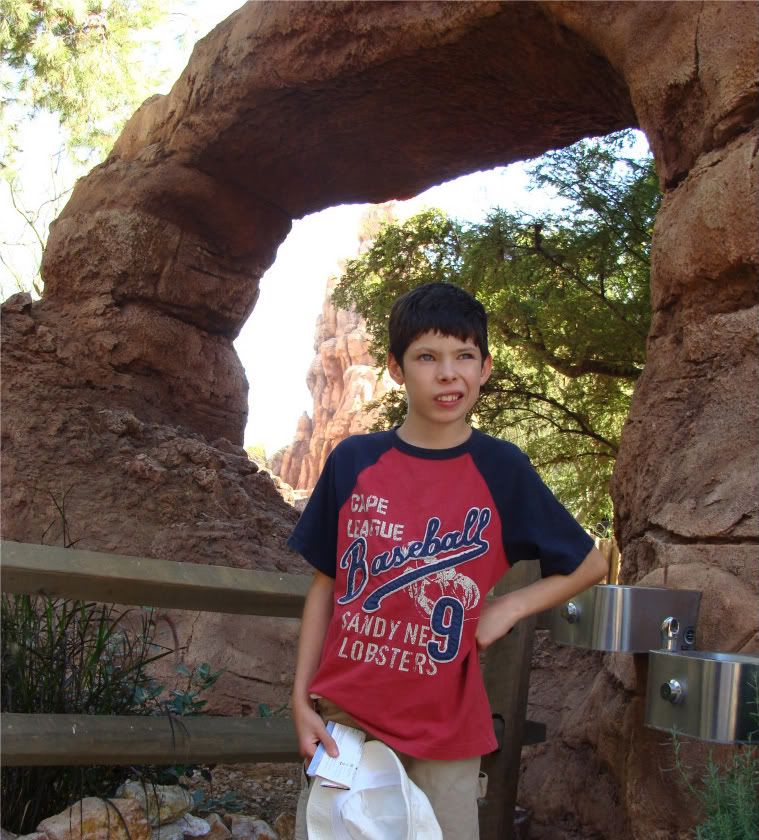 We rode Casey Jr.'s Circus Train where we observed (horrors) the closing of the Storybookland Canal books - another ride that always seems to be closed when we try to ride it. We rode Snow White's Scary Adventures and Pinocchio then we headed back to The Haunted Mansion and The Enchanted Tiki Room.
After that we decided it was time to head over to California Adventure since Papa had never been there, before. Heading up Main Street we were distracted by a giant slab of marshmallow goodness that was being made in the front window of the Candy Emporium (unfortunately it would not be ready until the next day - so today's Disney visitors are probably munching on it, now.)
We entered California Adventure passed under the Golden Gate Bridge and headed for Soarin' Over California a hang gliding simulation ride that flies over some of the most beautiful sights of California. Ethan loves the "smellevision" aspect which include pine trees and orange blossoms. Dad very much enjoyed looking at all of the aviation photos and equipment during the line and agreed that the ride part of Soarin' is quite an experience.
After Soarin' we were all getting pretty tired so we decided to end the day with a stop at Bur-r-r Bank Ice Cream before leaving the park. As we were eating our ice cream The Electric Parade began so we watched that and the fireworks then headed home. It was a great day & I am still exhausted now, at noon on the day following.