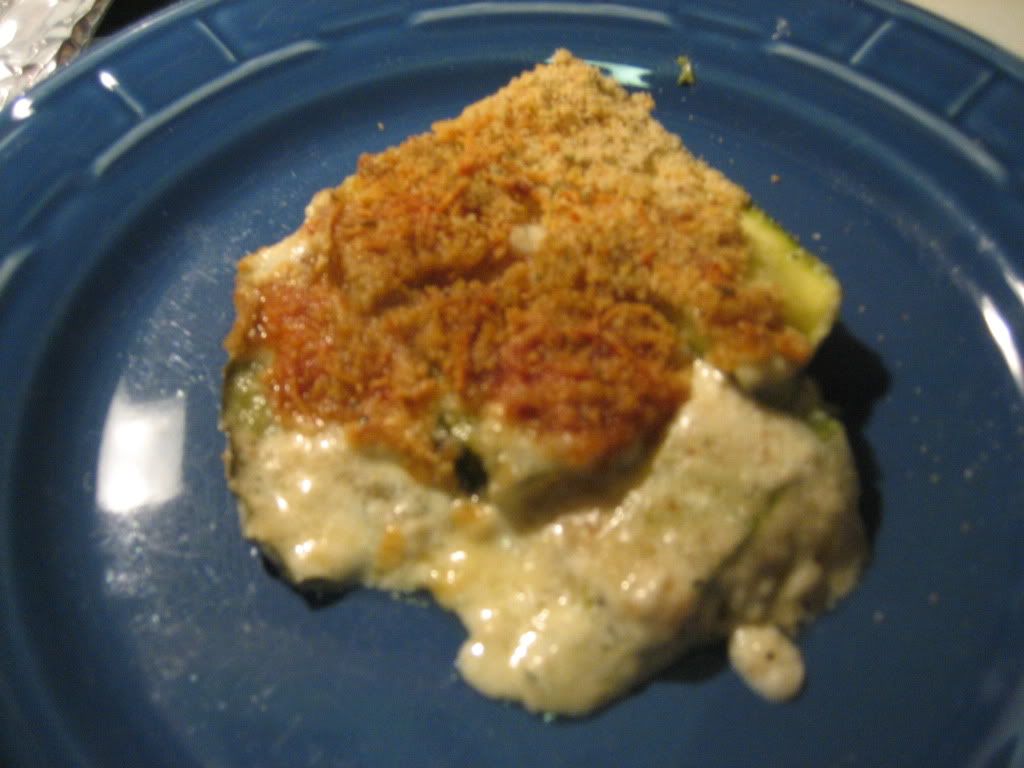 This is one of my all-time favorite dishes... You could probably get non-veggie eaters to dig into this one, it's so good. This is a layered baked Zucchini dish, it reminds me a bit of a lasagna only even better! The Fontina cheese has such a wonderful melt, it really adds to the texture and flavor of the dish. This is from Giada De Laurentiis book Everyday Italian, but I make it the way I saw her make it on her show, rather than strictly follow the recipe in the book. The book calls for 3 layers of the ingredients, but I find it difficult to get the zucchini to cook properly that way, I only make 2 layers. The original recipe calls for plain salt, but I use Lawry's Garlic Salt, I thought the original recipe was missing garlic flavor. I also use seasoned Italian bread crumbs, while the original recipe called for plain. "Verdure al forno" means vegetables in the oven. Giada suggests substituting whatever vegetables you like best to make the recipe your own. When I make this, I don't really measure I just layer, drizzle and sprinkle what looks right to me.
2 teaspoons extra-virgin olive oil
5 medium zucchini (about 1 1/2 pounds total), cut crosswise into 1-inch thick slices (planks not rounds)
Lawry's Garlic Salt (or 1/2 teaspoon regular salt)
1/2 teaspoon freshly ground black pepper
2/3 - 1 cup heavy cream
2/3 - 1 cup grated mozzarella cheese
2/3 - 1 cup grated fontina cheese
4 tablespoons grated Romano (or Parmesan) cheese
2/3 cup seasoned (or plain) dried breadcrumbs
Preheat the oven to 350 degrees Fahrenheit. Line a baking sheet with foil. Coat the bottom of an 8-inch square baking dish with olive oil.
Arrange enough of the zucchini slices over the bottom of the dish in a single layer to cover. Sprinkle with one third of the salt and pepper. Pour 1/2 cup of the heavy cream over the zucchini and sprinkle with 1/3 cup each of mozzarella cheese and fontina cheese. Sprinkle with 2 tablespoons of Parmesan cheese, then with 1/3 cup bread crumbs.
Repeat layering the ingredients one more time. (The vegetables can be assembled 8 hours ahead. Cover and refrigerate. Bring to room temperature before proceeding.) Place the baking dish on the baking sheet and bake uncovered until golden brown on top and the sauce bubbles, 40-60 minutes. You can serve this immediately, but if you let it sit for 15 mintues it is easier to cut into squares (I usually can't wait that long!)
Note: To test for doneness, I insert a butter knife into the center of the dish. I am looking at how easily the knife goes thru the zucchini to see if it is soft enough.
The cookbook says this makes 4 side-dish size servings... I think you get more than that from it. We often eat this is a main dish, all it needs is a salad & maybe some bread to make it a meal.