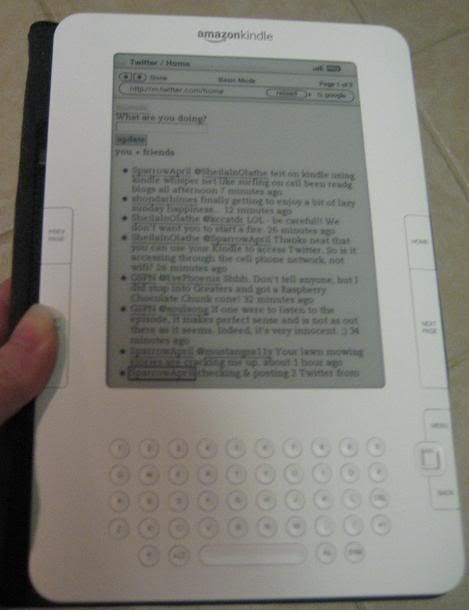 So I have mentioned it in a few blog posts and been twittering about it almost non-stop since I got my new Kindle (a gift from hubby for my birthday). I've had some emails and Twitter messages about it... so I'm going to talk about it in more specifics... I have already figured out things to do with it beyond just reading books.
So I mentioned before that Kindle is an e-book reading device created and sold by Amazon. It has a large capacity and can hold over 1,500 books. I can read for up to 4 days on a single battery charge up to 2 weeks with the wireless turned off. At present Amazon says they have more than 270,000 books available for Kindle. But it isn't the fact that it's an e-book reader that made me want one, it was finding out the ease and convenience of how it WORKS that made the difference. Disclaimer: I have a Kindle 2, which works differently from original Kindle in many ways.
EASY ON THE EYES - INDOORS AND OUT

The Kindle screen is designed to be easy on the eyes, it uses a new technology called Electronic Paper Display so you don't get eye strain the way you do with a computer monitor. The screen is not back lit so it can be read outside in daylight. This was a HUGE plus, I spend a lot of time outside watching children play. I can read the Kindle screen just as easily outside in sunlight as I can indoors.
No scrolling
,
when you finish the current page you don't scroll down, Kindle has next page and previous page buttons located where your hand rests as you hold it, you don't have to move your hands to turn the page. I have found I can operate it in just one hand.
Forget your reading glasses at the office?
Kindle lets you switch back and forth from 6 different font sizes if you want you can turn any book into a large print edition. (more on saving the eyes in the section about EXPERIMENTAL FEATURES.)
KINDLE HOLDS A LOT OF BOOKS
I travel to California to visit my Dad every summer, that is when I do the bulk of my reading... I usually stay too long to be able to bring library books and with tighter limitations on how much luggage I can bring, reading materials take up valuable packing space, even if I don't take any books, I come home with an armload of them. So the Amazon Kindle can hold up to 1,500 books and I remember reading that I can expand the memory with a memory card. Suitcase space problem SOLVED (at least as far as books go.)
INSTANT GRATIFICATION & TRY-BEFORE-YOU-BUY
Have you ever been at the doctor's office with a book and found you just weren't interested in that book that day?
Or perhaps you bought a new book and you can't get into it. Or do you have new books you haven't read yet, but all you REALLY want to read is a new book that you don't own - book guilt. Come on I know I can't be the only one who does these things... the book delivery system was the #1 reason I wanted a Kindle. Kindle 2 uses the Kindle Whispernet, as far as I can understand the signal it uses to connect wirelessly to the Kindle Store. It is NOT Wi-Fi where you have to find a hotspot, it's more like your cell phone it connects wherever you are (I understand there IS a service area map somewhere -and I think I read that Kindle Whispernet is powered by Sprint's 3G network.) At present there is NO CHARGE for Kindle Whispernet, if you have a Kindle, you get Whispernet at least right now. So I want a new book, I click to go to the Kindle Store and I can browse or search available books. I can read an overview of the book, I can see an average rating, I can read reviews of the book by other customers but the really exciting thing is I can choose to download a SAMPLE (usually the first chapter) and read before I decide to buy. When I DO choose to buy a book I click BUY and it's charged to the CC I set up for my account and the book is downloaded to my Kindle in about 60 seconds. YES! I can buy a new book in the middle of a pedicure or in line at the bank and since I get my books instantly I don't need to buy them until I am ready to read them (hopefully) eliminating that stack of un-read books.
Kindle holds my place in a book and I can add bookmarks, clip favorite passages, and add annotations of my own.
PURCHASES BACKED UP ON AMAZON.COM
If my Kindle ever SHOULD get full, a record of the books I've purchased is kept on Amazon.com so I can delete them from my Kindle and retrieve them again later when I want them or if I get a new device (haven't gotten onto the specifics on how this works yet.)
There is a lot more than that, but those are the Kindle Basics. Now on to some extra stuff...
EXPERIMENTAL FUNCTIONS
These are technologies that Kindle is developing, they're in a separate section and I'm encouraged to give my feedback of how I like them and if I think they should continue to develop and offer these services...
Basic Web

So far I have used this to check local movie times on Fandango, check up on friends and send updates on Twitter, and to read blogs (text only - no ads!) It works best in Basic Mode - which is like using a phone with Mobile Web (I think I don't have the web enabled on my phone) - I had trouble getting into gmail to check my email, but will keep trying. I can add to my list of Favorites. The photo at the top of this post was when I was in Twitter, click the photo for a closer view.
Play MP3
I can upload music to listen to while reading or audio books from Audible.com this feature requires transferring data from a computer.
Text-To-Speech

This is that other eye saver I mentioned, Kindle will read my books TO me. It's an electronic voice, and it goes kind-of fast (even at the slowest of the available speeds) but it turns the pages as it goes so I can read along. I used this feature, rather than read aloud to my husband from the user's manual, today... and when I demonstrated it for Ethan (age 10), he wanted me to leave it running so he could listen to the whole book that way. There is a volume control and a headphone jack.
I'm sure there are a lot of things I forgot to cover but this is a lot already, let me know if you have any other questions.
Here is a link to a list of
25 "Kindle Hacks"
thanks to Cliff over at
GSPN.TV
for sharing this link.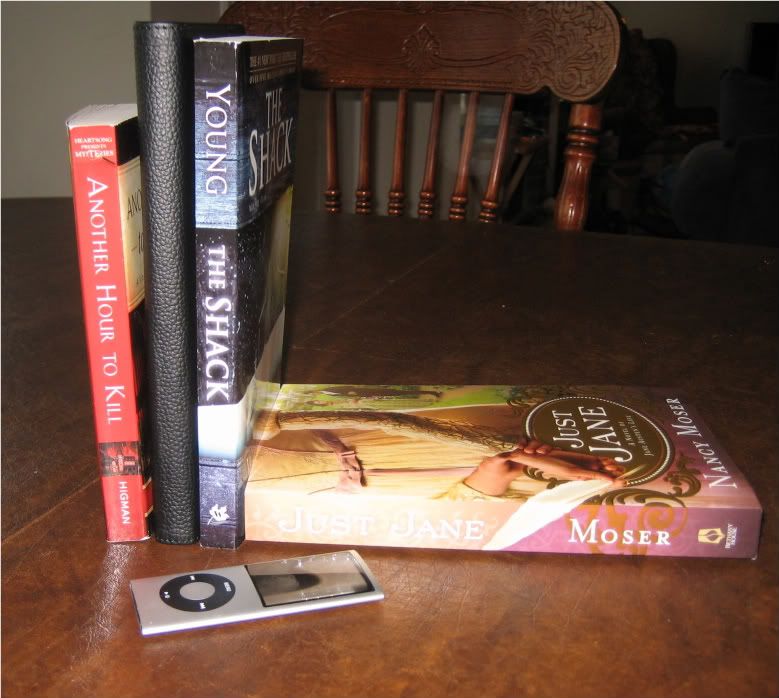 Here you can see even with the added bulk of its padded, protective cover the Kindle is still the size of a paperback book. The cover can fold back to hold easily in one hand, as seen in the photo at the top of this post.