When Mom died I brought home a set of 2 Paula Deen cookbooks that I had given her. I brought home a lot of Mom's cookbooks on that trip... but for some reason these had special significance and I had put them in a "special place" and never looked at them. I just wasn't ready yet.
So on New Years Day.... with nearly two years gone by... I started reading...
Tell me I'm not the only one who reads cookbooks!
I haven't been cooking like I usually do, so, with the holidays over I was ready to get back into the thick of it. I have a 10 year old who loves spinach, so this dish seemed a great place to start. It's from The Lady & Son's Too! cookbook by Paula Deen.
This recipe is bubbling away in the oven and I just can't wait to dig in. I will give this one warning - you'll need two big pots... one to simmer the meat sauce in, and a second to cook your pasta, and combine a bunch of ingredients with the pasta after it is cooked... so be forewarned....
Baked Pasta Florentine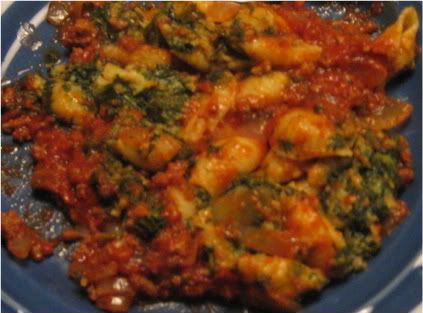 One 10 oz package frozen, chopped spinach
2 tablespoon, plus 1/2 cup vegetable oil (yes 1/2 cup!)
1 1/2 pounds ground beef
1 medium onion, chopped
1 clove garlic, minced
One 15 1/2 oz jar pasta sauce with mushrooms
One 8 oz. can tomato sauce
One 6 oz. can tomato paste
1/2 teaspoon salt
Pinch of pepper
8 oz. seashell macaroni
1 cup shredded sharp cheese
1/2 cup breadcrumbs
2 eggs, well beaten
Cook the spinach according to package directions; drain , reserving the liquid and adding enough water to measure 1 cup; set aside. In a large, heavy pot, heat the 1 tablespoon of oil over medium heat. Brown the ground beef, onion, and garlic in the oil, stirring well to crumble the beef. Drain off the fat. Stir the spinach liquid, pasta sauce, tomato sauce, tomato paste, salt and pepper into the meat mixture. Simmer for 10 minutes, then cover and set aside. Cook the macaroni according to package directions; drain and return the macaroni to the pot. Add the spinach, cheese, breadcrumbs, eggs, and the 1/2 cup of oil; stir gently to mix well.
As soon as the eggs hit the hot pasta and the hot pot they are going to begin to cook, and the cheese is also going to begin to melt. I recommend putting the oil, pasta and breadcrumbs in first, leaving the cheese and eggs until last so you can quickly stir it up.
Spread the mixture evenly in a lightly greased 9"x13" baking dish. Top with the meat sauce and bake at 350 degrees for 30 minutes.
Serves 8.
I used sharp cheddar cheese because I just wrote "sharp cheese" on my grocery list... when assembling the recipe I realize she probably meant something more along the lines of Parmesan or Romano cheese, and the finished dish does need the saltiness of one of those in with the spinach