I made these tags for my friend, Dwana, who loves dogs.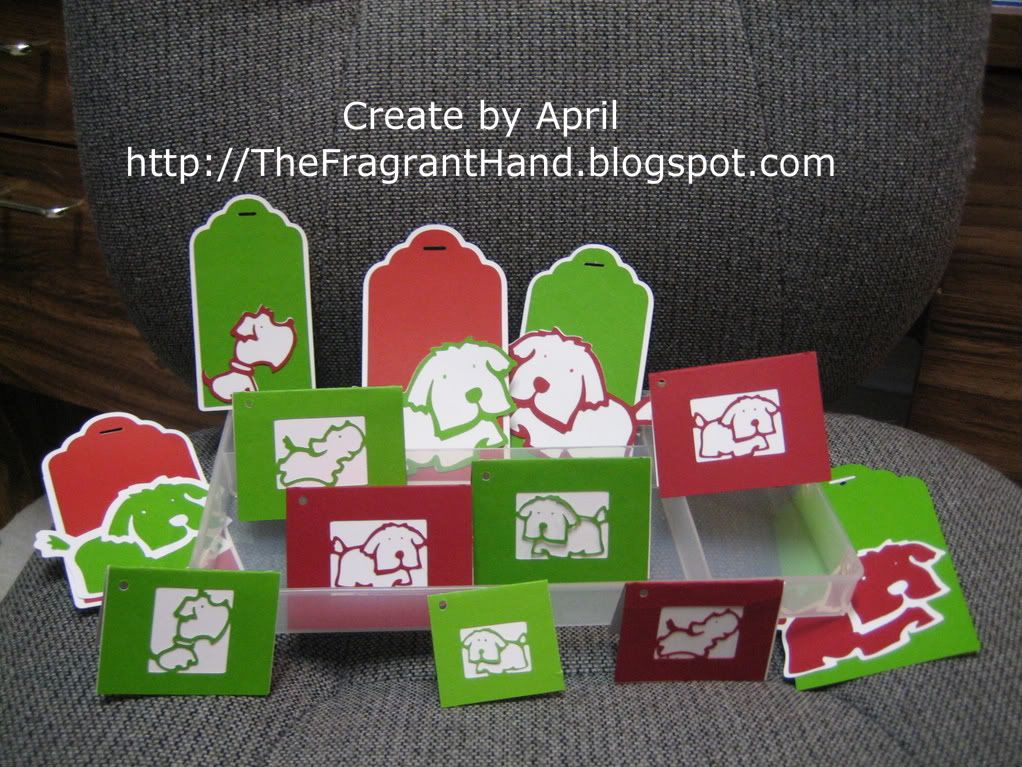 Cardstock used is Close To My Heart colors are: White Daisy, Clover Meadow, Cranberry.
Rectangular tent tags are cut using Cricut Machine and Paper Pups Cartridge with the "card" creative feature, using "scotty", "bdaydog", and "bllndog" I cut it in various sizes to get as many as I could out of a piece of cardstock. I cut rectangles of white and glued them inside the tags for contrast. I used a hand punch to punch the holes and my markers in matching CTMH colors to draw the eyes on the dogs.
The flat tags are cut using Cricut Machine and Tags, Bags, Boxes & More cartridge using the "scallop top tag" The largest size tags are cut at 5" with the regular tag cut in the colored cardstock and using the "shadow" creative feature in white. I cut the dogs (scotty and bdaydog) in various sizes the outlines (regular cut) out of colored cardstock then glued them onto the same dog cut with the "blackout" creative feature in white. I again drew the eyes with a matching marker. The extra pieces cut from the insides of the large outlines I then mounted on the same dog cut from white with the creative feature "shadow" (to create the red and green dogs.)
I used a Close To My Heart glue pen on the thin outline cuts. I also sometimes used the back side of the dogs so that some of them would face in the other direction.