Welcome to day one of this weeks
Classic Artwork Blitz!
I promised to share some oldies but goodies so here is the first classic technique. These stamps are long since retired but the techniques they showcase never go out of style. The
quick color technique
is a quick way to quickly color in a line image.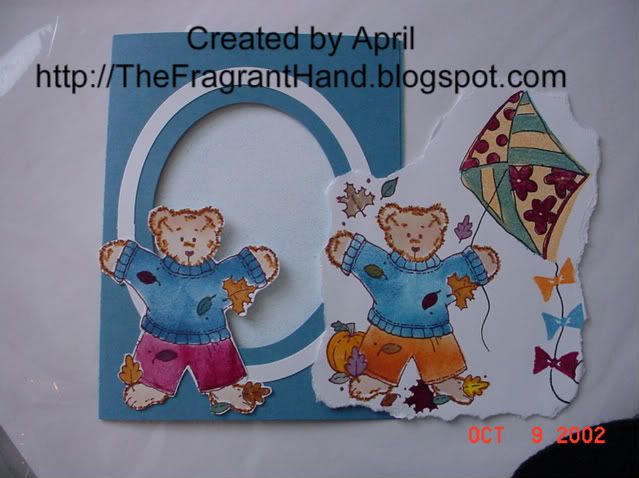 I will begin by explaining how I colored the Bears. This technique is a great way to quickly color in an image when you will need to color multiple copies of the piece.
First I made my stencil.
I begin by stamping the bear on Glossy Card stock in Archival Black Ink. I like to use glossy card stock because it holds up better for multiple uses and archival black ink because once it is dry it won't smear onto the colored image.
1) Leaving plenty of space between each image - I stamped the bear three times - Once for each color that I wanted to apply.
2) Using an exacto knife, I cut away the area for a single color from each bear. On the sample I wanted to color the bear's pants one color, his shirt another color, and his fur a third color - so I cut accordingly (see sample.) - Cutting out the stencil takes time, but I only have to do it once as I store the stencil with the stamp set and use it again and again.
Coloring the Image
3) Next I stamped the bear on white card stock in a dark brown ink. This is the image I wanted to color.
2) I placed my stencil over the image lining up the part I wanted to color - you can tape the stencil into place using removable tape if you like. I applied Vineyard Berry Ink to the image using a sponge. If you want a uniform coverage use a blotting or pouncing motion - if you want the effect of stronger shading on one side, use more of a rubbing motion on that side of the stencil.
3) Move the template to line up with the next section to be colored - I inked the shirt in Indian Corn blue ink.
4) Continue to move the stencil and sponge on the ink until all the sections are colored - I completed the coloring by inking the bear's fur in Desert Sand ink.
You can do detail coloring with markers if you desire.
Check back tomorrow (10 AM Central Time) to see how to use this technique with solid images.If you try this, please post a comment to this post and share the link to your artwork. I'd love to see what you make using this technique!

All supplies by Close To My Heart
Stamps: Go Fly Kites (retired), Autumn Bear (retired)
If you would like to learn how to cut the window rings in the card, drop me a comment on this post... if there is enough interrest I will feature it in a future post.