Happy World Card Making Day!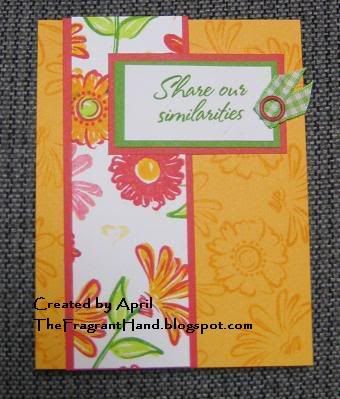 Sunflower Card Base Random Stamped with Outline Images in Sunflower Ink
White Strip of Cardstock Random Stamped with Solid Stamps, then overstamped with darker or contrasting ink with outline stamps.
Red flowers stamped by inking Solid Stamp in Holiday Red ink then stamping off ink on scratch paper then stamping on project. This gives a lighter intensity of the same color and is called 2nd Generation Stamping. Then ink the outline stamp in holiday red ink and stamp as usual.
All supplies by Close To My Heart
Stamps: Simple Blossoms
Colors: Citrus Leaf, Clover Meadow, Sunflower, Holiday Red