We've had two days of rain and tonight I was in the mood for something warm and comforting. This dessert is so delicious. I found it in a Pampered Chef Cookbook - Cooking for Two and More. Croissants form the base for this bread pudding, soaking up a delicious custard which is studded with chocolate gems. The top is sprinkled with sugar and becomes crisp like french Palmiers pastry. Be sure to use bittersweet chocolate, it makes a wonderful counterpoint to the sweet custard. I have made 3 changes to the original recipe...
First - I love the increased richness of the custard which comes from using whipping cream instead of the original half and half.
Second - I use Girardelli Bittersweet Chocolate Chips. I prefer the large gems of chocolate instead of the fine flake I got when coarsely chopping block chocolate.
And finally - I added cinnamon to the sugar that is sprinkled on top. Chocolate and cinnamon truly are a wonderful combination.
Enjoy this easy recipe which strikes a wonderful balance between creamy and crisp, bitter and sweet. It makes a lovely desert or a decadent breakfast with tea, coffee, or Mexican drinking chocolate.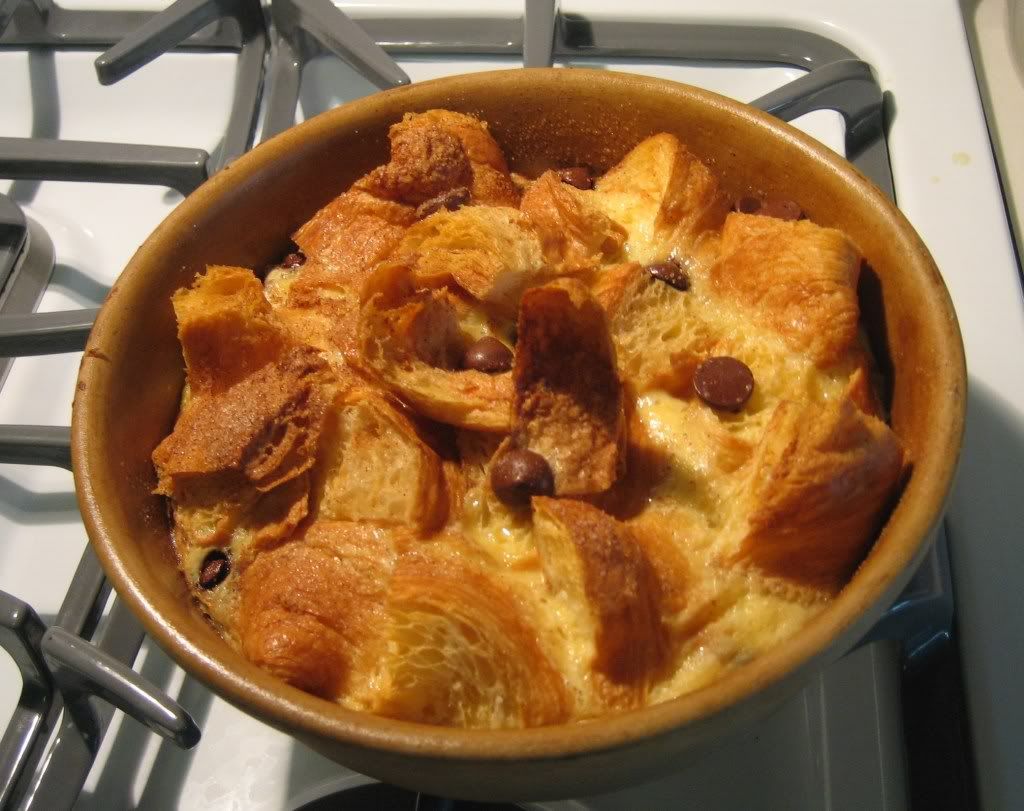 2 eggs
2/3 cup whipping or heavy cream,
unwhipped
(or half and half)
1/4 cup sugar
1 teaspoon vanilla
2 medium croissants, cut int cubes
1 oz bittersweet chocolate chips (scant 1/4 cup)
1 tablespoon sugar
1/8 teaspoon cinnamon
1) Preheat oven to 325 F. Lightly spray mini baking dish with non-stick cooking spray (pie plate size or smaller.)
2) Whisk eggs one at a time, then whisk in Whipping Cream, vanilla and 1/4 cup sugar.
3) Place croissant cubes into baking dish; top sprinkled with chocolate chips. Slowly pour egg mixture over croissants; let stand 10 minutes.
4) Mix together remaining 1 tablespoon of sugar and cinnamon and sprinkle over top.
5) Bake 34-40 minutes or until top is deep golden brown and thermometer reads 160 degrees F. 6) Remove from oven and cool for 10 minutes before serving.