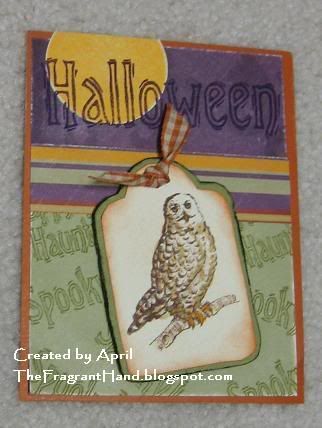 I love this card. My favorite thing about it is the moon, how the layers overlap and how it is cut off at the top.
I did make this card last year so it was hard to remember what I did, but I had a lot of questions about how I got the owl to look like this. So I went back into my stamp room with the card and fiddled on my desk pad to figure out precicely which colors I had used on the owl. I stamped the owl on
Colonial White
Cardstock - that is part of why he looks richer, it's not stamped on stark white. I stamped him in
Chocolate Ink
- (also a richer, warmer look than black ink.) Then I scribbled his feathers here and there to kind of shade him up a bit with a
Bamboo Marker.
Originally I was trying to make him (her?) look like Hedwig but I found the browns worked better for getting a good look on the owl with these papers so I let go of that concept. I colored his eyes with a
Garden Green Marker.
His feet and beak are
Autumn Terracotta Marker.
The branch was chalked I sponged the edges of the tag with Terracotta Ink, this helped the tag look less flat and disguised the fact that most of the owls body was the same color as the tag.
All Supplies by Close To My Heart
Stamps: Take Flight, Frightening Fun, Tag Stamp
Enchanted Paper Pack
Colors: Colonial White, Autumn Terracotta, Sunflower, Pansy Purple, Olive, Garden Green, Bamboo