I haven't posted any recipes in a long while due to the hurricane. Now that the kids are back in school I am back to work so I made an easy dinner, tonight. I first made these sandwiches a few weeks ago, they were a big hit with my family. Ethan is so enthusiastic about these that he was asking me to make him another before he had finished the first half, he ended up eating his entire sandwich plus half of mine! And I had been afraid he might be put off by all that green... Silly Mommy.
I have been doing a bit of grilled sandwich research (surfing) this morning. Lo and behold I came across this quote about the Monte Cristo sandwich (YUM!) On
Wikipedia
"The first well documented appearance of the Monte Cristo sandwich is on menus at the Blue Bayou and Tahitian Terrace restaurants at Disneyland's New Orleans Square in 1966."
The Blue Bayou
is where I have enjoyed most of the Monte Cristo sandwiches I have consumed and I have to say that they are WONDERFUL!
Pesto Mozzarella Grilled Cheese

I got this idea from Tyler Florence on the
Ultimate Rainy Day Episode
of Tyler's Ultimate. But he made pesto from scratch - I'm sure homemade pesto would be even better, but this is the quick and easy weeknight version & I have trouble finding fresh basil in large quantities, so I'm using prepared pesto.
Ingredients:
Loaf of Sourdough Bread
Tub of Prepared Pesto Sauce (find it in the refrigerated pasta section)
Mozzarella Fresca (Fresh Mozzarella it's with the specialty cheeses and usually packed in liquid - it's much softer than standard Mozzarella which has been aged.)
Olive Oil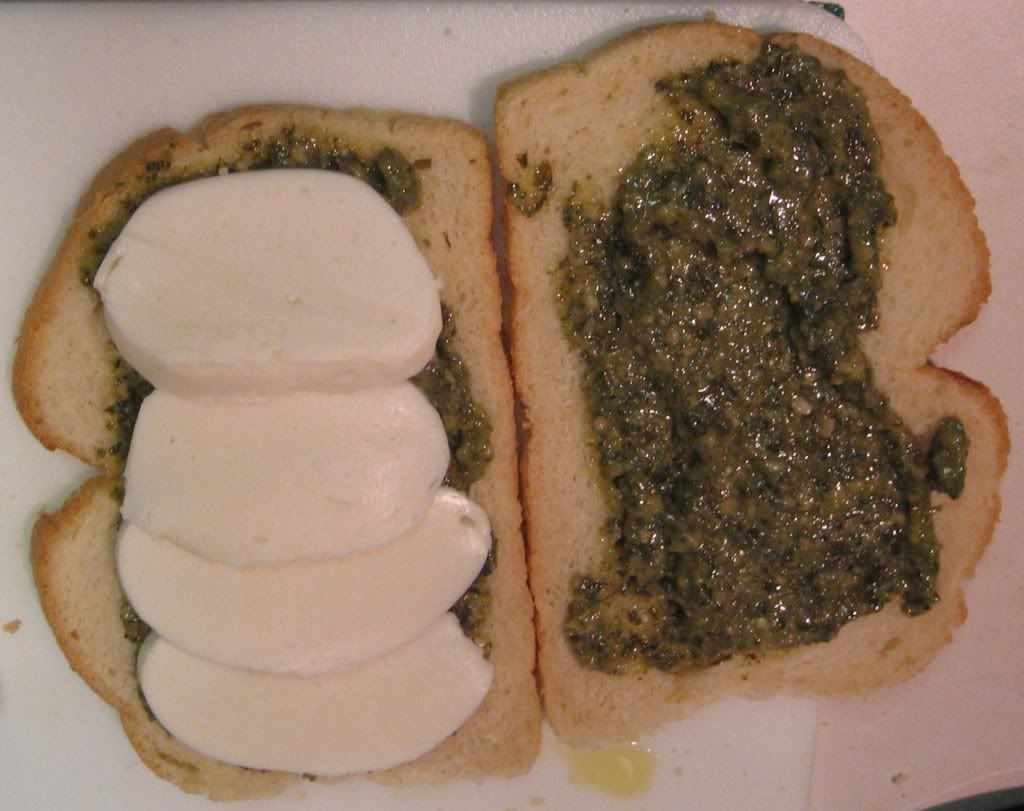 1) Slice Mozzarella and Bread if not pre-sliced.
2) Spread pesto sauce on insides of bread, top one side with mozzarella slices and assemble. Brush one side of bread with olive oil (it actually tasted butterier than using butter!)
3) Place sandwich oiled side down on heated iron or griddle. Brush remaining side with oil.
4) Now in order to press the sandwich you will need something with some weight. Here is what I did. Top sandwich with a sheet of heavy duty aluminum foil, place the flat bottom of a cookie sheet on top of that (large flat surface that will press down on all the sandwiches) and top that with something heavy (I used my cast iron skillet or you could use some heavy cans.) Grill until browned and flip. When both sides are toasted remove to cutting board and cut sandwich in half.
Tips
: On the TV show, Tyler used a nice artisan Sourdough and cut it into thick slices and grilled it on a Panini press. I found that when I tried to use my grill pan and weight with thick sliced bread, I did get those pretty panini grill marks, but only the ridge part of the sandwich browned, and the bread was too thick for the cheese to get warm enough to melt.
I did much better with both browning and melting
using sourdough pre-sliced by the bakery (thinner uniform slices) and toasting the sandwiches on a flat griddle - still pressing the layers under under foil, cookie sheet, and cast iron skillet. You could easily make this a Tricolore Sandwich by adding slices of tomato. (
The word Tricolore refers to the Italian flag: red, white and green - In Italian Cuisine dishes with these three colors are also described as Tricolore.)