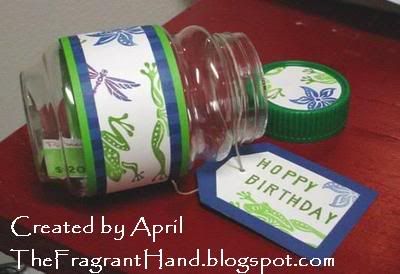 I made this jar to hold a gift card for my Dad's birthday. I filled the jar with paper shreds and placed a gift card inside. The plastic jar is a Folger's Decafinated Coffee Jar.
To give the images a more interresting look I inked up the frogs in Citrus Leaf ink, then before stamping, rolled the stamp edges in Clover Meadow so the inks blended into eachother on the stamp. The Dragon Fly was inked in Pansy Purple ink with the edges rolled in Moonstruck Ink.
All materials are Close To My Heart.
Stamp Set: Frogs (now retired)
Colors: Moonstruck, Citrus Leaf, Clover Meadow, and Pansy Purple