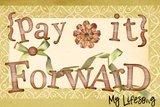 Saw this on
Carrie's Through The Camera Lens
blog & decided to play along - which means:
I promise to make a handcrafted item in 2011 & mail to the FIRST 5 people who comment that they would like to join in, only asking in return that you post this on your blog and offer 5 people something you make by hand and mail to them this year.
Sounds like fun doesn't it?
I hope you decide to join in and Pay It Forward with crafty love!
Whatever kind of crafting you do. It'll fun to see what we all come up with!