I haven't had my Cricut out in awhile, but playing with it the other night has got me creating again. (Click image for larger view)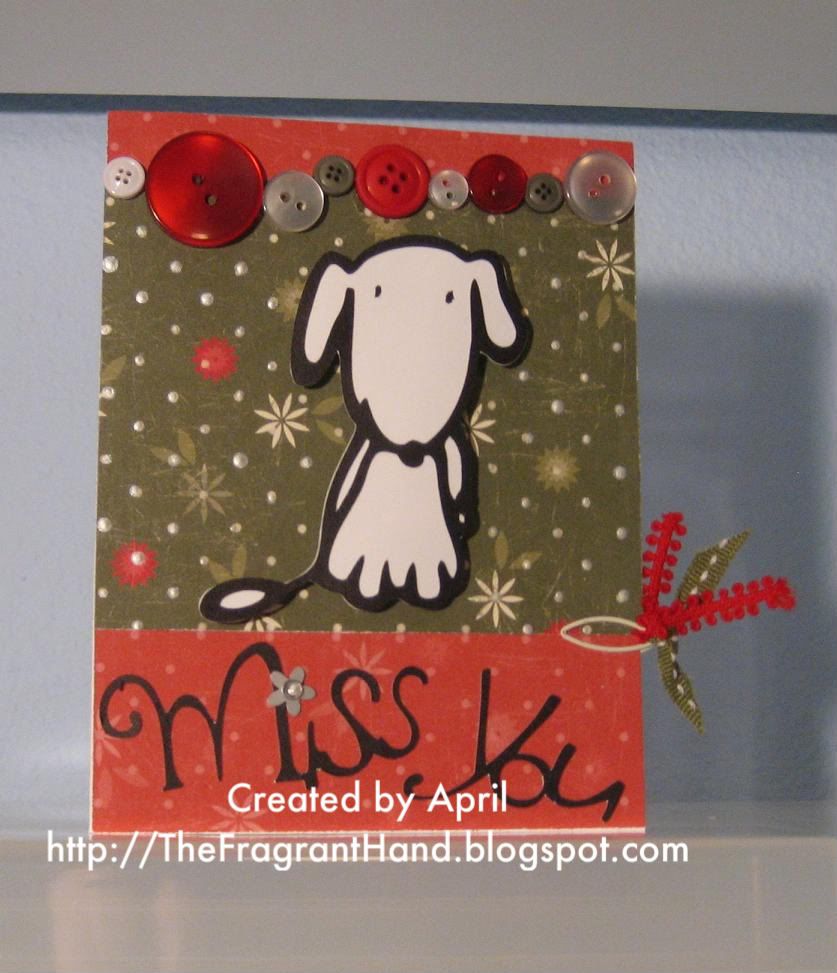 This card is made with papers from Close To My Heart's Evensong paper pack, the red patterned paper is the back of the green patterned paper, very nifty. The ribbons are from the Holiday Designer Ribbon Rounds tied onto a clip from the Holiday Mini-Medley Accents Collection. The "i" is dotted with a flower sequin (used to be in the White My Accents Collection), with a sparkle on top. I used the back end of a paint brush and Create-a-Shade Pearl Paint to put dots of pearl over the dots on the green paper and in the center of the sparkle. Buttons are attached with liquid glass and are from the Holiday Craft Buttons Collection. I used 3d foam squares under the dog image to add some dimension to the card.

All supplies are Close To My Heart
The dog and "Miss You" are cut using a Cricut Machine, images are from the Paper Pups cartridge, I was inspired by the Quick Start project in the product handbook.
Cuts are:
LeashDog - Cut at 3" out of Black Cardstock (this is the outline)
LeashDog - Cut at 3" with Blackout Feature from White Daisy Cardstock
Miss You (Shift of leashDog) Cut at 1 1/4" out of Black Cardstock
I used the CTMH Glue Pen to assemble the pieces and adhere the letters, I also sometimes use the Write N Rub pen - it's like a ball point adhesive pen and works wonderfully for very small pieces.
Rather than try to adhere the tiny bits of cardstock for the eyes, I just used the scrap piece that was cut from the center of the outline as a stencil, I placed it back into the outline and used my black marker to color in the holes for the eyes onto the white cardstock.