This is one of my favorite stamp sets, the kids remind me of the Lemony Snicket books for some reason (not the movie, just the books)
When I first made these cards, the concept was to promote reading. So they have a bookmark in the pocket in front and a spot for a gift card for Barnes and Noble or other bookstore in the pocket on the inside. The greeting I came up with for inside was,
"It's no TRICK
Reading is a TREAT!
click photos for larger view.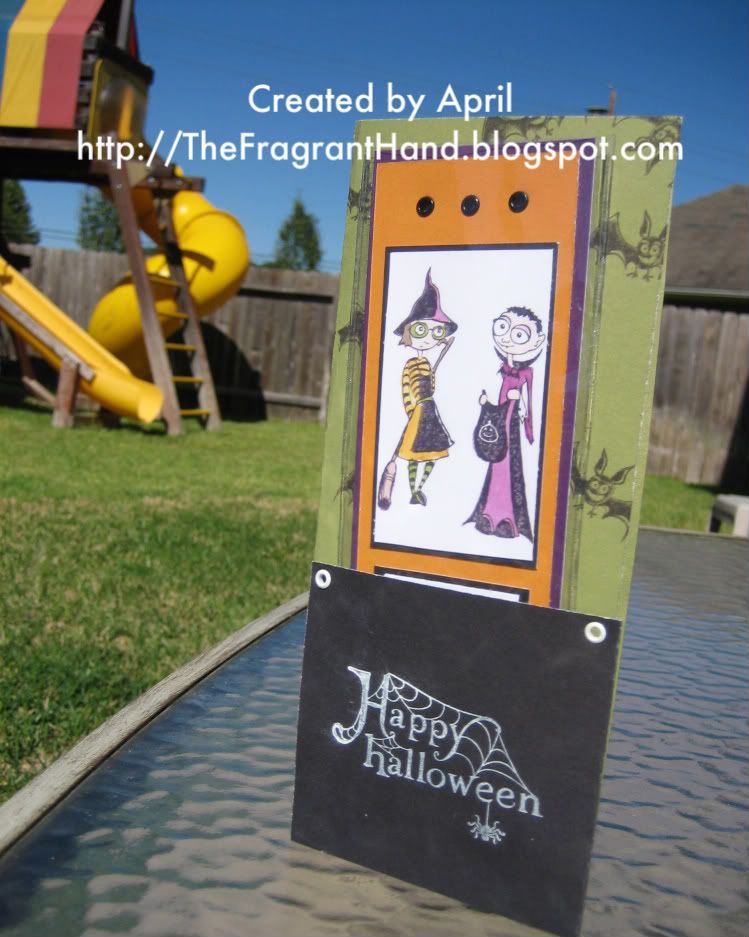 This card is 8"x3.5" made to fit inside a standard legal envelope.
The base is made out of Olive cardstock it is 7"x8". If you want to print a sentiment on the inside now is the time to do it, before you begin to assemble the card. Random stamp bats in black over the right half of the card, then fold it half to make the card. Next cut a strip of black cardstock which you will use to form the pockets 6.5"x 3.5. Score the strip in the middle at 3.25." Stamp Happy Halloween with White Daisy ink. Now attach the scored strip to the card using white eyelets. This will give you a pocket both inside and out. The fold is at the bottom (rather than the side) so things can't drop out the bottom of the pocket.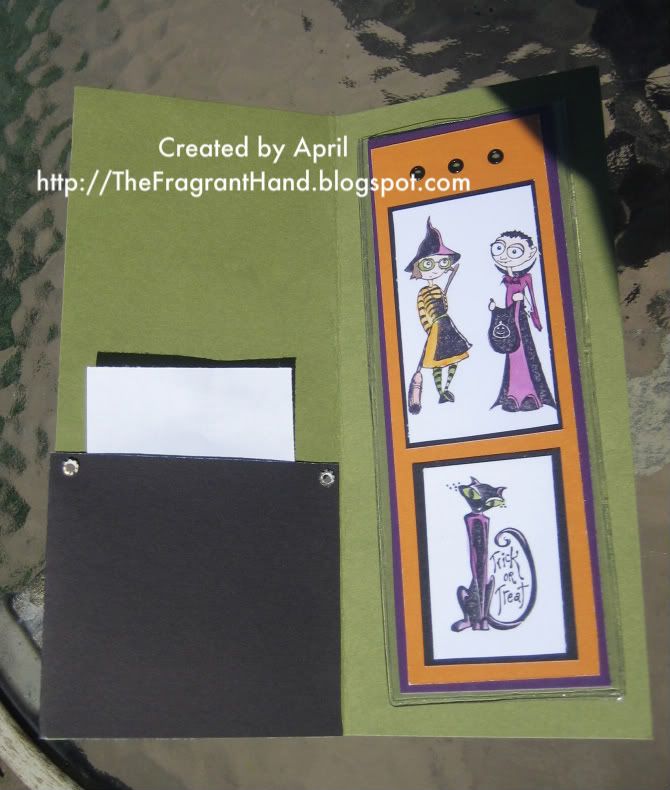 Inside Pocket and Bookmark
The bookmark is 7"x2.5" and the base is Pansy Purple. Cut a piece of Goldrush 6.75"x2.25" and layer them together. Stamp your images on a strip of cardstock that is 1.75" in width and cut to the right height for your images. Now mat on black cardstock that is .25" wider and .25 taller than your white piece. I colored the images using a waterbrush and re-inkers. I used a marker in Vanilla Cream to color the skin-tones. Add the squares to the bookmark and finish with Three Black eyelets across the top of the card. I put my bookmark into a protective vinyl bookmark sleeve purchased from
http://clearbags.com/
I trimmed off the triangle top so the sleeve was the same height as my bookmark.
All Supplies by Close To My Heart
Stamp Set: Halloween Dingbats (retired)
Colors: Olive, Archival Black, Pansy Purple, Goldrush, White Daisy, Vanilla Cream, Desert Sand
Waterbrush, Eyelets, Re-inkers, Vinyl Bookmark Sleeve